Cisco Brewers' Triple Eight Distillery shares the secret to its vodka line. Hint: It's something we all drink every day.
On a winding country road, slightly off the beaten path of what is known as Nantucket town, sits the Cisco Brewers compound, also home to Nantucket Vineyard and Triple Eight Distillery. The brewery's move to expand into vodka stems from a series of interesting events, beginning with a love story between two of the owners, Randy and Wendy Hudson, and the budding friendship and business partnership with another couple, Dean and Melissa Long. The Longs were attempting to grow grapes on Nantucket in order to produce wine, while the Hudsons brewed beer out of their backyard. When the couples joined forces, however, a successful business was born, and from that business came Triple Eight Distillery.
Initially, Triple Eight Distillery tried its hand at whiskey, which is beer that that has been distilled. But the distillation process takes time—five years to be exact—and so they turned to vodka, which doesn't take nearly as long to distill. In order to raise the funds to make vodka, Hudson decided to offer investors futures on the now-distilling barrels of Notch, or not-scotch, whiskey, a spirit that was named Best Single Malt in America in 2015.
Hudson is direct about what he thinks makes Triple Eight's vodka unique: Nantucket's water source. "Vodka must be distilled to 190* proof, so to get it into bottles at a reasonable and drinkable strength, it is required to be proofed down with water. LOTS of water," Randy Hudson says. Triple Eight distillery has its own well, and they use ultra pure sand to filter the native water. "The bottle is predominantly water, and our water is amazing!" Hudson says.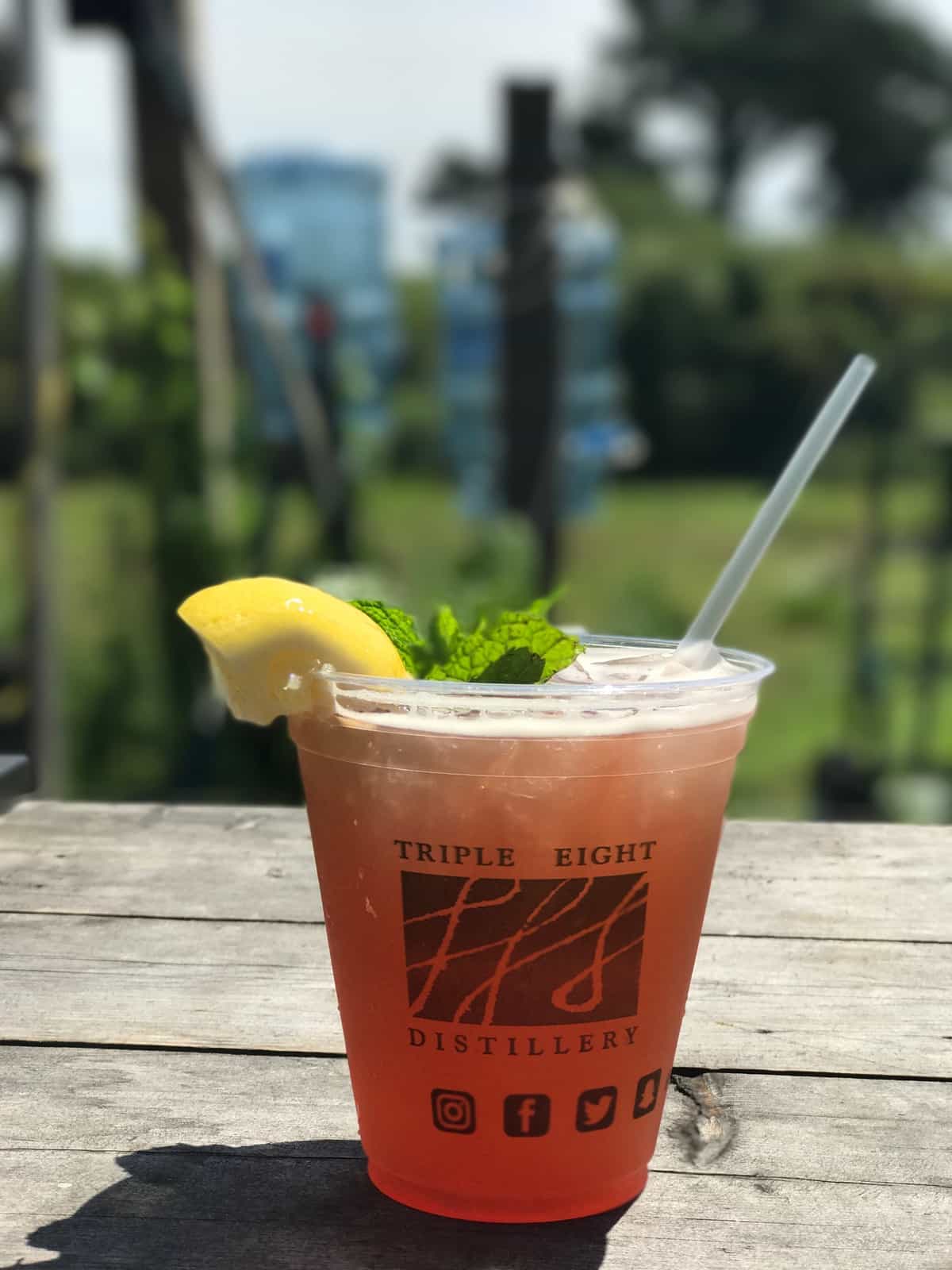 In addition to the local water source, Triple Eight uses real fruit for its flavored vodkas. Cranberries come from Cape Cod in addition to Nantucket grown berries, and for the Blueberry Vodka, Hudson turns to Maine. If you are a visitor to the island, you can enjoy a cocktail at the onsite bar, often flavored with homegrown ingredients. "Where we get to go a little crazy is at our bar," Hudson says. "We grow chamomile that is used in syrups for drinks, three types of mint that we produce, garlic, peppercorns, and horseradish that we use to infuse vodka for a bodacious Bloody Mary, raspberries for jam drinks, and loads of other seasonal produce like cucumbers and kale." According to Hudson, "We love growing stuff, and we have fun with it!"
Having a vodka distillery on an island 30 miles out to sea makes getting your product to the masses a little tricky. Triple Eight recently hired a wholesaler, but up until that point, Matt Lambo, Triple Eight's in-house distributor, traveled around the New England area in a 1975 Volkswagen camper van. This boots-on-the-ground approach helped spread the word fairly effectively, particularly when Lambo parked outside big events in major cities, including Fenway Park during baseball season. Triple Eight vodka is now available in 12 states, thanks in large part to this guerilla marketing campaign.
In the meantime, if you ever find yourself on Nantucket, stop by for one-of-a kind vodka concoctions, or if you want to recreate a taste of Nantucket at home, pick up a bottle of Orange Triple Eight Vodka and one of Vanilla Triple Eight Vodka and make yourself a Nantucket Creamsicle: just add ginger ale and orange juice, and pour over ice. Cheers!
Randy Hudson–co-owner, Triple Eight Distillery at Cisco Brewers
Nantucket, Massachusetts
Website
Facebook
Twitter
Top image: All photos courtesy of Triple Eight Distillery.