Turners Falls artist Fafnir Adamites on trauma, ephemeral materials, and creating a placeholder for invisible things.
On a brisk and sunny winter morning in Turners Falls, MA, sculptor Fafnir Adamites is at the beloved local spot, the Five Eyed Fox. She is tucked away on a bench, holding her morning cup of coffee, enveloped in sunlight. "It feels like spring in here, I can't get enough," she remarks. Adamites has lived in Turners Falls with her partner, sound artist Neil Young, for over a decade, collaborating together on installations, and embedding themselves amongst local artists. Her place in the community is evident, as residents coming in and out of the coffee shop greet her by name, often remarking on her recent work or upcoming events in the community.
Adamites has lived in New England her whole life, outside of a two-year stint in Chicago to complete her MFA in Fiber and Material Studies from the School of the Art Institute of Chicago. " I went to UMass for undergrad," she says. "I think just the depth of different art and music communities that are specifically in Western Massachusetts is a lot of what kept me here after high school, and after college." She notes that collectives like Flywheel Arts in Easthampton, and the plethora of galleries, artists, and weirdos in the region, have given her little to no reason to leave. In fact, they keep her alive and creative.
Since returning from SAIC in 2015, Adamites has unleashed a prolific amount of solo and group exhibition work. While traditionally engaged with felt making to create various shapes and environments, Adamites has recently turned to paper to construct her most recent installations. "One of the things that makes felt and paper so similar for me," she explains, "is that both have kind of a physical appeal and a conceptual appeal, too. I call felt and paper chaos structures, because they are not made like a textile is made, in terms of weaving and having a rigid rib, a woven piece. Felt and paper are just chaotic masses of fibers. The paper pulp and the wool, and that idea of having a chaotic mass come together into something usable that can be a surface or a structure in some way on its own, is beautiful to me."
For Adamites, the lure of creating felt and paper is the collaborative process of skill and surrender. Utilizing a "wet process," she agitates wool and other fibrous material in hot soapy water. She utilizes wool with other wide-weave fibers such as muslin, silk, or burlap to create a unique struggle between the fibers during the felt process. "Wool shrinks and you get this really beautiful surface texture that is very wrinkled and kind of unruly. It takes the sort of rigidity out of the grid. That one material can overtake another material in that way feels empowering."
The texture of Adamites' pieces ebb between dark smooth lines of black, sooted paper, where the beauty lies in an up-close examination; and disordered tangles and crumpled masses forming shapes that are both alien and familiar. Her installation The Unwitting Reception of Someone Else's Secrets feels ghost-like and haunting; her most recent installation, Cryptonyms, at Deerfield Academy, looks strangely post-apocalyptic and alive.
Woven deep within her material processes, Adamites meditates "on trauma, memory, and the legacy of emotional turmoil inherited from past generations" to conceptualize her own experiences and to create conversations amongst those who interact with her work. "I like the idea of creating physical spaces or physical pieces that can be sort of a placeholder for those invisible things," she explains, "like depression, mental illness, and so forth. Whether it is the things we do not want to talk about, or the traumas that are invisible, I want to have a monument to those things now."
Adamites creates work with the hope of offering a space for individuals "to have conversations with each other about difficult subject matters…the psychic burden and triggers all around us. And that is one of the few things that I can offer to help people, or at least to open some kind of space for dialogue for people to grapple with things that are so hard." The focus of recent and upcoming work has been in creating "isolation spaces," where a single person can enter into one of her sculptures and infuse the depths of their own emotions and experiences into her work. "It is not just about me and my grandmothers," she says, "or whomever from my past. I want it to be something that more people can find their own place in, to tell their own story if they want to."
The relationship between the fragility and impermanence of textiles, and the invisibility of trauma in everyday life, coalesces in multiple spaces of meaning for Adamites. "The idea that your work may break down and completely disappear seems scary for many people who want to archive their work. I embrace the devalued nature of these materials and their ephemeral state. For me, to work with materials like this is a kind of lesson every day in impermanence, and needing to be flexible and roll with unpredictable changes. It expresses both my conceptual explorations of what may not be seen and the reality that my art can be both fragile and present."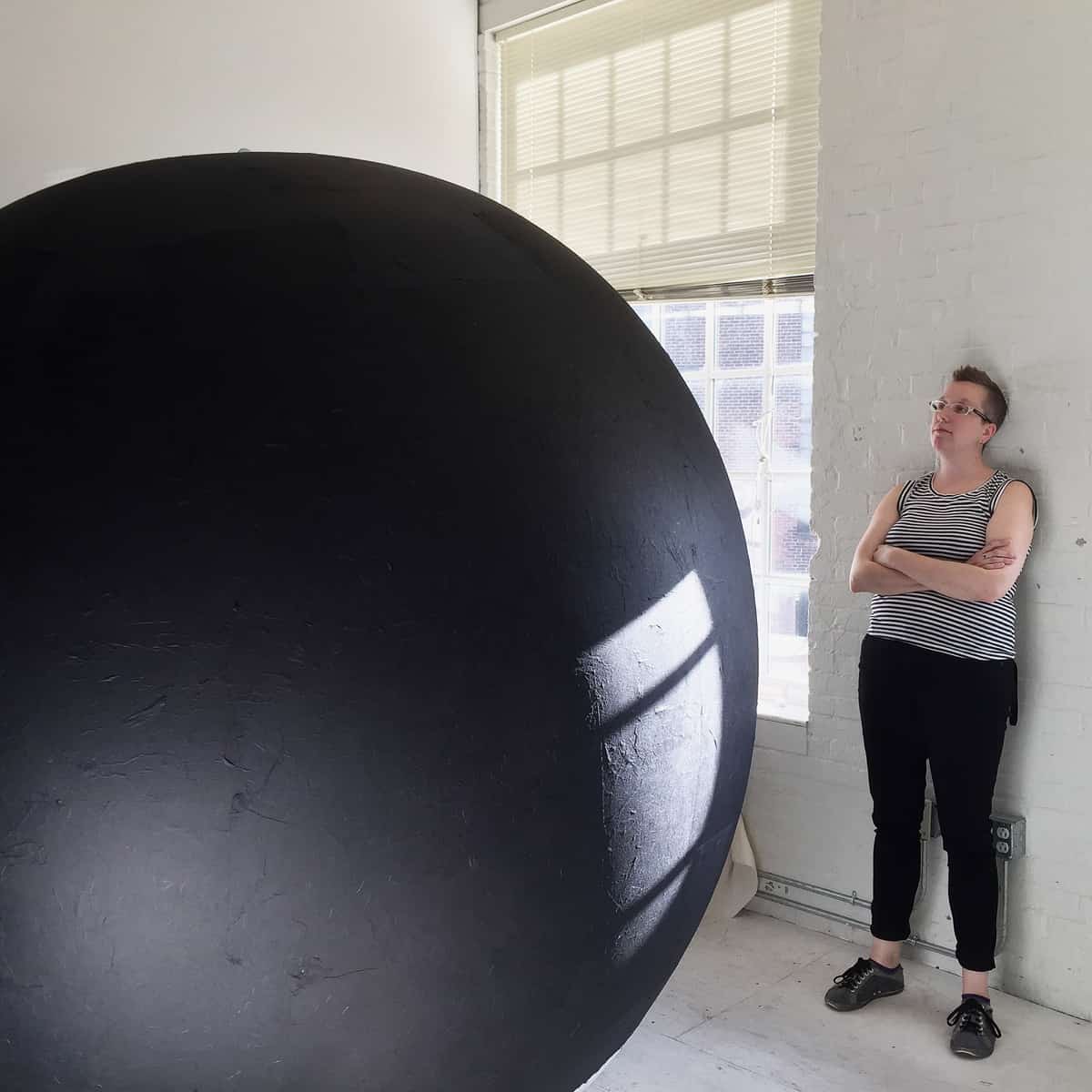 Fafnir Adamites is a sculptor living and working in Turners Falls, Massachusetts. Her work will be on exhibition at the A.P.E Gallery in Northampton, MA beginning in February 2016 and at the Boston Sculptors Gallery in Spring 2016. For a more intimate look at her work, check her website and news page.
All photographs courtesy the artist.
Top photo:"Dead Reckoning is Subject to Cumulative Errors", 2016 | paper, MDF panels 16x2x1.5 | part of the "Groundless Wayfinding" exhibit at Greenfield Community College, February 2016