Joanne Francis of Portsmouth Brewery in New Hampshire creates a new beer for women who don't give a fuck.
At first glance it sounds like a joke. A craft beer aimed at menopausal women? With herbs and spices designed to possibly help symptoms? Cue the laugh track.
But Joanne Francis, co-owner of Portsmouth Brewery, is serious in the way that only a woman of a certain age can be serious, as in she's been around enough to know what she's doing — and if you don't get it, well then, your loss. (See subhead.)
Francis, who has been in the craft beer industry for 26 years, first got the idea for a beer aimed at older women a few years ago. "I have seen a lot of beers developed. The focus is always on 21- to 35-year-old male," she says, noting she brewed her first batch in her home in 1986. "As we've seen the craft beer industry grow and grow and grow, it's so oversaturated. The same ground is constantly planted. How many IPAs can you possibly make? Here I am at 58. No one is talking to my peers who love beer, who drink a lot of beer, but no one is speaking to my menopausal friends."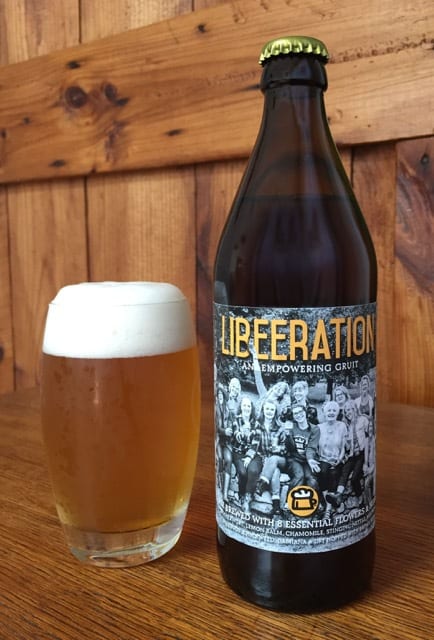 At the office, initial reaction to Francis' idea was, um, flat. "'You can't say menopause. It's so distasteful to young men'," she says. "I said screw it. I won't push it. I have to respect that employees need to get behind this too."
But then she and Portsmouth head brewer Matt Gallagher were talking one day and decided to make a small batch. "He's very progressive and a new dad," she says. "He has a new awareness of women in his life, so he said let's do it."
Creating Libeeration took a lot of experimentation. It's a gruit, which is made from an herb mixture rather than using hops. Francis was inspired in part to make a beer with a strong herbal mix from her own health issues. As someone with Lyme Disease and chronic migraines, she is no stranger to alternative health practices. "I have dabbled into having to know a lot of herbal remedies," she says, noting she worked with natural health practitioners while experimenting to find the right herbal mix for Libeeration. (The beer includes motherwort, lemon balm, chamomile, stinging nettle, mugwort, rose, chickweed, and damiana.)
"I thought wouldn't it be great to make a beer using some of these floral remedies," she says. "Wouldn't [women] appreciate being honored and being treated as if menopause is not a curse but a liberating part of your life. Let's have a drink together and celebrate it."
Alternative health fans (and women who've tried everything short of knocking themselves out with a hammer to get a good night's sleep or dousing themselves in a cold shower to stop a hot flash) will recognize many of these herbs. Several can help calm and/or reduce moodiness. Damiana, meanwhile, can potentially help add moisture to your body. Francis and Gallagher started by making teas with the various herbs. "The herbs had to pass the tea test to be sure they had a nice flavor," she says.
Francis has a simple response to skeptics who might question the potential health benefit of a beer. "This isn't medicine," she says. "I'm not trying to be a doctor. Even if it doesn't help, it helps to know someone cared. That's my primary purpose. What would be a nice tribute to women at a certain age. I'm making a flavorful beer with some nice properties that I think you would really like."
It's a prescription a lot of women appear to be ready to adopt. Portsmouth Brewery sold out of its first batch and is about to release its second batch. "It's been ridiculous. I never expected the amount of attention," Francis says. "We've been getting hundreds of emails from every state and across the world."
So far, Libeeration is only available at Portsmouth Brewery, but Francis hopes to change that. "The next step is to graduate this beer so we brew it in a bigger facility."
Take that, skeptics.
Joanne Francis–co-owner, Portsmouth Brewery
Portsmouth, New Hampshire
Website
Facebook
Twitter
Top image: The Libeeration ladies. All photos courtesy of Portsmouth Brewery.