You know how vintage and second hand shops are usually a hit or miss? Vintanthromodern isn't one of those places.
If you thought Vintanthromodern was like any other second hand shop, boy were you W R O N G. The simple explanation in rhetorical question form: When has Take ever bothered to cover the ordinary? Nestled on State Street in the East Rock neighborhood of New Haven, Connecticut, Vintanthro (we're on a first name basis) is a headquarters of all things vintage and, even more importantly, all things local and artisan-made.
First thing's first: I bet you're curious about the name. Prayers answered, here it is broken down:
(pronounced: vin-tan-throw-modern)
vintage: of lasting interest and importance / anthropology: the science of humans and their work /  modern: pertaining to present and recent time
A rose by any other name would smell as sweet? W R O N G. A name more suitable doesn't exist because while Melissa Gonzales, founder and curator, is sure to keep a stock of the most perfect vintage things in all the land ("all the land" being Connecticut, New England, and occasionally the deep South), she has an eagerness to give back by supporting local artisans and crafts people's (anthropology) current work (modern) whether it be screen printers like Black Unicorn Studios, wood workers like B Meyer Studio, or natural beauty product makers like Poor & Pretty. Everything is thoughtfully hand picked by Gonzales, in turn crowning her the colab-queen of a healthy and roaring arts-and-commerce collective in her community of New Haven.
Too good to be true? Well, don't bother visiting before you peep the 360-degree virtual tour on their website. Be prepared for the denim galore (seriously, what's a vintage space without this particular rolling rack), floral afghans, antler-print neckties, silk scarves, handmade garlands, satin peep-toe kitten heels, and needlepoint perfection that you'll come across. If you're like me, and the typical ramshackle haphazardness of second hand shops gives you severe anxiety, and causes you to rush out gasping for relief from that unmistakable mothball meets old-lady-tea-party smell, but at the same time you're raring to get your hands on that special find that will only reveal itself after 30+ minutes of digging…this place is your salvation.
Another awesome feature on the Vintanthro website is the look book—because vintage clothing can be daunting and sometimes we need help working it naturally into our wardrobe. (There's a fine line between rocking that floor-length pastel skirt and looking like you're on your way to Tuesday night bingo at the Legion.) Fear not, Vintanthromodern has your back on that one. In the words of Gonzales herself, "Vintage doesn't have to be costume." Further, their Instagram (by now, you know about my acute obsession with feeds of this nature) is simply TDF (to die for, not to be mistaken with DTF), and if that ration of "vintage porn" doesn't reel you in, their floor-to-ceiling shop window will.
If there's one thing Vintanthromodern loves more than their old and new finery, it's their customers—which means, if you come upon something particularly meant for you, don't expect to escape without your picture getting snapped, posing with your new find. No doubt this is a common occurrence, because Gonzales has a thought-out concept for every piece that enters her doors. "I almost sort of envision who would wear the piece or who would be attracted to the piece," she says, "and so there's a sense of excitement that not only I am discovering something, but later on somebody else will be having that same discovery."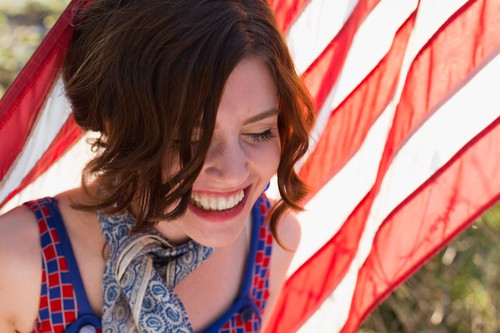 Whether you have a gift to buy, a craving for vintage, or just need a cozy space for inspiration, find your way to Vintanthromodern. Because they'd love to meet you.