At Scout & Co., Andrew Burke creates ice creams that defy convention, thanks to his unusual blends of herbs, fruits, and more.
If your idea of an exotic ice cream choice involves chunks of cookie dough embedded in vanilla, then Andrew Burke's work will really freeze your brain. The co-owner of three Scout & Co. ice cream and coffee cafes in Burlington and Winooski, Vermont, comes up with combinations that few others would dare to marry. He pairs strawberry and lovage in one current selection. Rhubarb and star anise in another. Rocky Rose is an unorthodox twist on the classic: chocolate, marshmallow, and walnuts as expected, but also a strong dose of rose.
Those may sound strange, but they taste inspired. Sweet Potato Frozen Yogurt evokes a cold, tangy version of the same root-vegetable pie popular in the South. Cranberry, Buttermilk & Szechuan Peppercorn balances a light tartness against the rich buttermilk, with just a hint of the Chinese numbing spice that turns the dessert more zesty than peppery.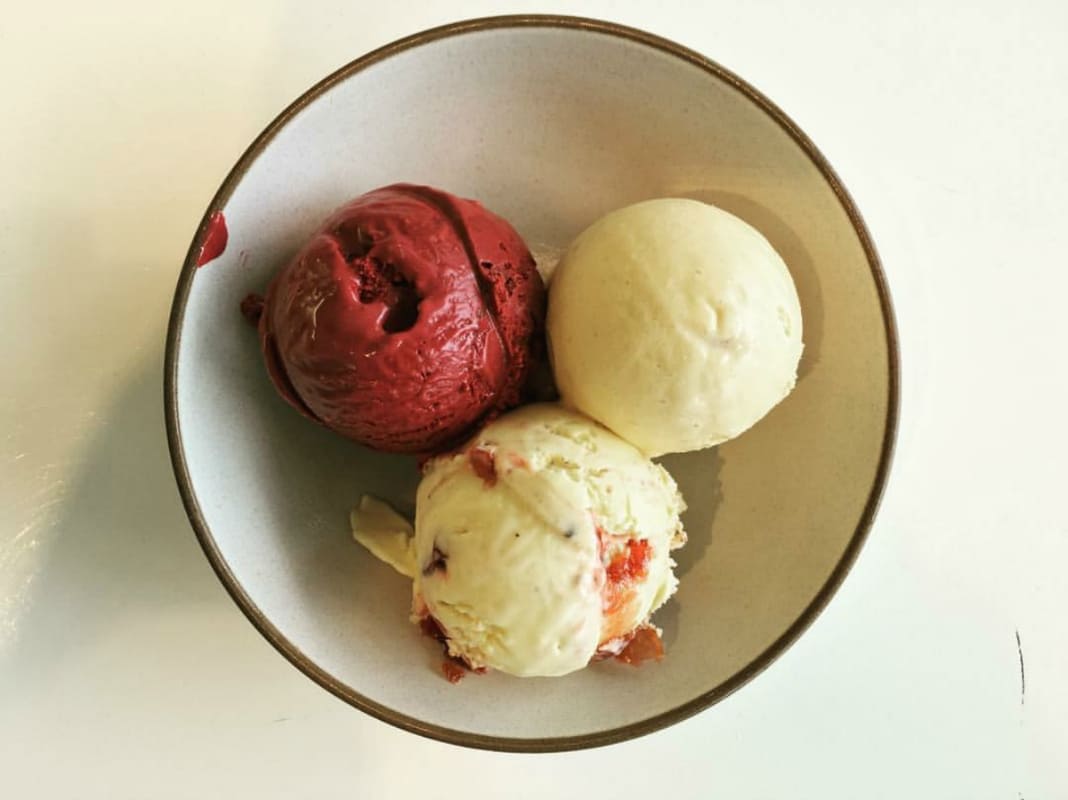 To develop ideas, Burke looks to the seasonal, local bounty of his surroundings. When strawberries start exploding, he'll use them in abundance. An early-summer favorite is Strawberry & Hops Sorbet. For spring, his first batch of berries with lovage leaned too green, overpowering the subtle sweetness. He planned to do it again using fresh-strawberry jam to boost the fruit.
In the winter, Burke improvises with readily available currents, beets, or grapefruit. Vanilla Oak, for which he steeps oak chips in milk, is a staple. Most of the year, Scout also serves its signature Smoked Maple & Sea Salt. Burke gets all his milk and cream from the grass-fed cows of Kimball Brook Farm in North Ferrisburgh, Vermont. "When you think of ice cream, you don't usually think of farm-to-table flavors," Burke says.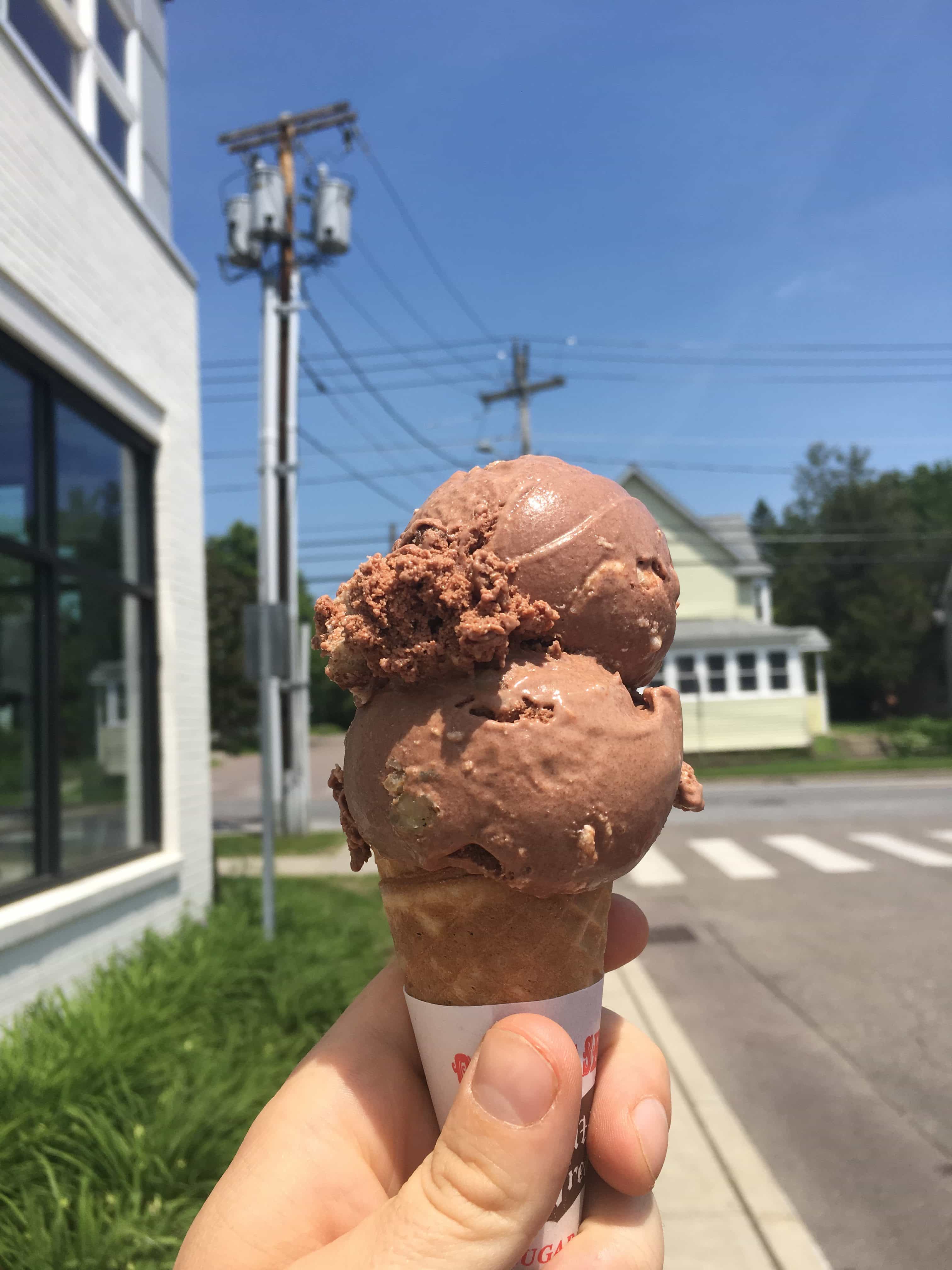 Danielle Rochford, a ministry student and regular at Scout in the Old North End neighborhood of Burlington, reminisced on a recent afternoon about one of her favorites: Blueberry Cheddar Cheese. "I'd never had a cheddar cheese ice cream before," she says. "I think I came back for some more the next week."
At first, Burke had trouble blending in the cheese. When he poured it into the hot ice cream base, it turned goopy like Mornay sauce. Adding it after freezing the ice cream caused the cheese to chunk up. Ultimately, he used a blender to get it smooth.
Ice cream innovations involve as much chemistry as creativity. For herbs or vegetables, Burke juices them first, which increases the water content, requiring more cream to offset it. When he works with apples, the fruit bursts its cell walls as it freezes and loses its crunch. "That's always one of the biggest challenges is to get the texture right with things you wouldn't normally add to ice cream," he says.
Burke trained at The Culinary Institute of America in Hyde Park, New York. After kitchen stints in Portland, Oregon, he returned to his native Vermont to work for Misery Loves Company, a bastion of creative cuisine in Winooski. He and colleague Thomas Green left to launch Scout in spring 2014. They wanted a fun, lighthearted way to apply their gastronomic talents and flavor fanaticism without a full-fledged, fine-dining menu. Scout offers brewed and pour-over coffees from four small-batch roasters, including two based in Vermont; doughnuts and pastries from the similarly flavor-twisting Miss Weinerz bakery in Winooski; and Savouré sodas made in Bristol, Vermont, with funky combinations such as apricot and saffron.
Andrew Burke–co-founder
Scout & Co. ice cream
Burlington and Winooski, Vermont
Website
Facebook
Twitter
Instagram
Top image, Andrew Burke scooping ice cream, photo courtesy of Andrew Burke