Enter Ramiro Davaro-Comas slightly twisted, inky, but mostly friendly world of Bros and Foes. 
Dozens of young punks, skaters, veterans of the local and regional art scene, and other Arts Night Out wanderers gathered on April 10 at FOE Store & Gallery in Northampton Massachusetts, where they met some hungry cavemen, two-headed brothers, flying skulls, radioactive squirrels, and bicycle-riding hotdogs.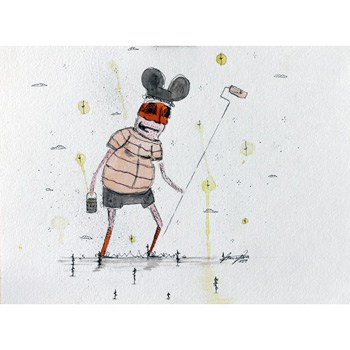 The "Bros and Foes" exhibit features the charismatic illustrations of Buenos Aires native-turned-Brooklyn resident Ramiro Davaro-Comas. The artist produced the 34 pieces, primarily using watercolor and pen and ink, over a month and a half specifically for the exhibition. Raised in Massachusetts, Davaro-Comas was a designer for the Northampton skate shop Credo (now Theory), and has recently taken part in artist residencies all over Europe and the United States. However, the oddball creatures in the works at FOE tell a loose narrative of his journey to and experiences living in New York.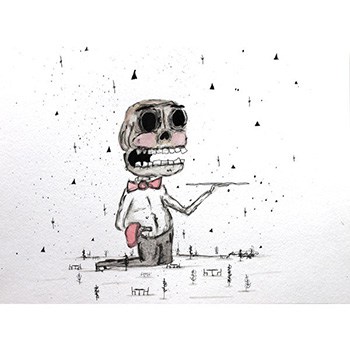 The artist creates stark boundaries between his characters and their surroundings, creating depth, variety, and movement within each piece. Using fine-point pens for precision, Davaro-Comas adds loops and other intuitive flourishes to the edges of his subjects. "It makes them seem like they're in motion," he says. "At first glance, it gives them a little more life than if it was just straight dark lines."
The scribbly foes and bros seem to be a questionable group of troublemakers, misfits, and literal party animals, but you never feel like they're out to hurt you. They are oddly endearing and even universal. We all know the red-haired lady with the enormous cat, the old punk dude wearing the NOFX T-shirt, or the cigarette-smoking tourist brandishing the American flag. Perhaps we are one of these folks. The allure of Davaro-Comas' art is that he brings dignity to oddity and makes you want to be best friends with the seediest creatures.
While it's clear that he is having fun, he also understands how cruel or indifferent the big city can be to the individual. Pointing to a work titled "Moving to Brooklyn," which depicts a pantless bearded guy wheeling a shopping cart, Davaro-Comas says, "Everyday on the train you see stuff… The homelessness out there is really intense."
Amidst other creative endeavors, such as building outdoor public art and self-producing numerous zines, Davaro-Comas plans to publish a book of the Bros and Foes illustrations coupled with short narratives about each work. His exhibit at FOE will be on display until May 3.