Western Massachusetts musician Jake Klar channels his wanderings into a new album of troubadour homecoming.
Jake Klar's newest album, Until the Wildfire Becomes Paradise, will drop you into a desert and envelop you in the troubadour's crooning narrative, and then carry you back to your living room, your ear pressed against a radio like a hit-hungry kid of the 1960s. This album longs to wander, just as it longs to come home.
That stands to reason. Klar found his voice in the desert of Texas at age 17 on a pilgrimage of sorts, where he returns every year to partake in The Crooked Crow Songwriter's Retreat. He's got wandering feet and a hot air balloon heart, steeped in the desert songwriting tradition, but those feet always carry him back home to his DIY community of hardworking artists in Western Massachusetts. Klar's gathered moments congeal here as soul-feeding collaborations of all sorts. This album is its rock-n-roll manifestation. It's for the heartbreaker and its subject, the wanderer and the homeward bound, and its release will be at The Parlor Room on November 4th, alongside collaborator Max Wareham.
This latest outpouring of Klar's is two years in the making, its characters filled in and placed with care into each song. "Because I'm coming from a writing standpoint," Klar says, "the songs are driven by words—those are the stronghold—words and emotion." The poetry comes first. In "Counting Stars," he sings, "leaving's just the feeling of forgetting when you'll be coming home." And then there's the album's instrumentation, which wraps itself around Klar's voice, echoing and feeding its fully bared and seriously beautiful howl.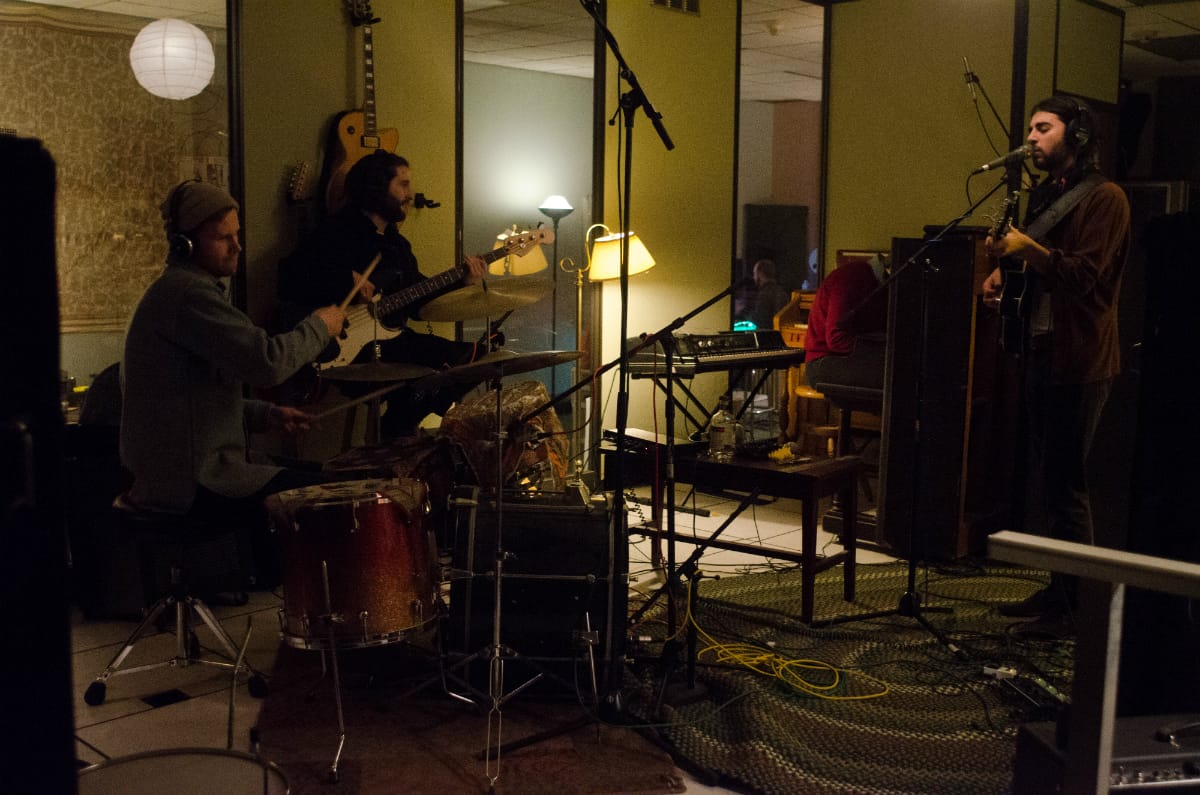 Performed solo—just the crooner and his guitar—these songs hold a refreshing clarity. Klar's voice, on and off the record, bellows from a seemingly deeper source than the belly, and while the worthiness of this record could rest on his voice alone, it doesn't. Each song's needs have been lovingly attended to—filled in with harmonies and quirky embellishments in spots, and pared down at crucial moments. "I've been thinking about space and silence as such a crucial part of music," Klar says.
While his voice carries through the album, at its middle is a heartbeat, an instrumental interlude, called "Hot Air Balloon." In this breathing pocket, the listener is granted a moment to reflect on Klar's narratives and a moment to appreciate the album's instrumentals. Max Wareham holds that heartbeat on the bass, while Joel Helander twinkles on the keys, a supernatural adornment throughout. Holding it down at the drums is Karl Helander, who also served as the album's primary producer at Sleeper Cave Studio in Easthampton, Massachusetts.
These songs—a self-proclaimed bricolage of collected stories and emotions—find Klar nested in his artistic responsibility to make you feel something. "I want to work until I'm dead," he says. "I want people to cry the way I have to songs, or, I don't know, go fall in love with someone." Klar is the storyteller and the trickster, sneaking around the country, plucking stories to gather and disperse beauty.
Want to hear what Klar listens to for inspiration? Check out our Take a Listen Spotify Channel. While there you can listen to what other musicians we've profiled are listening to as well.
Top image: Jake Karl. Photo by Alex Pines