Connecticut artist Leslie Giuliani defies description. Is she a printmaker, painter, weaver, rug hooker? All of the above?
Once you've seen the work of Weston artist Leslie Giuliani, it's difficult to stop thinking about the vibrant colors, hypnotic implied narratives, and intricacies of a process that wraps in monotype, painting, embroidery and more. In viewing pieces like "Traveler" and "World of Wonders," anchored by often amusing, sometimes darker, cartoonish and anthropomorphic figures, it's fun to imagine the story behind Giuliani's lexicon of symbols, abstract shapes, glyphs, and primitive characters.
Giuliani has upped the interpretation ante by embracing more abstract shapes in her newest mixed media works like "It Works!" and "Phantasm." But perhaps the real puzzle for the uninitiated is this: What kind of artist is Giuliani? Printmaker, painter, weaver, rug hooker?
Genre-hopping like the best artistic polymaths, Giuliani is all of the above, often in a single composition—and while her works can look a bit folksy and homespun, looks deceive. Giuliani passionately embraces digital age technology throughout her process.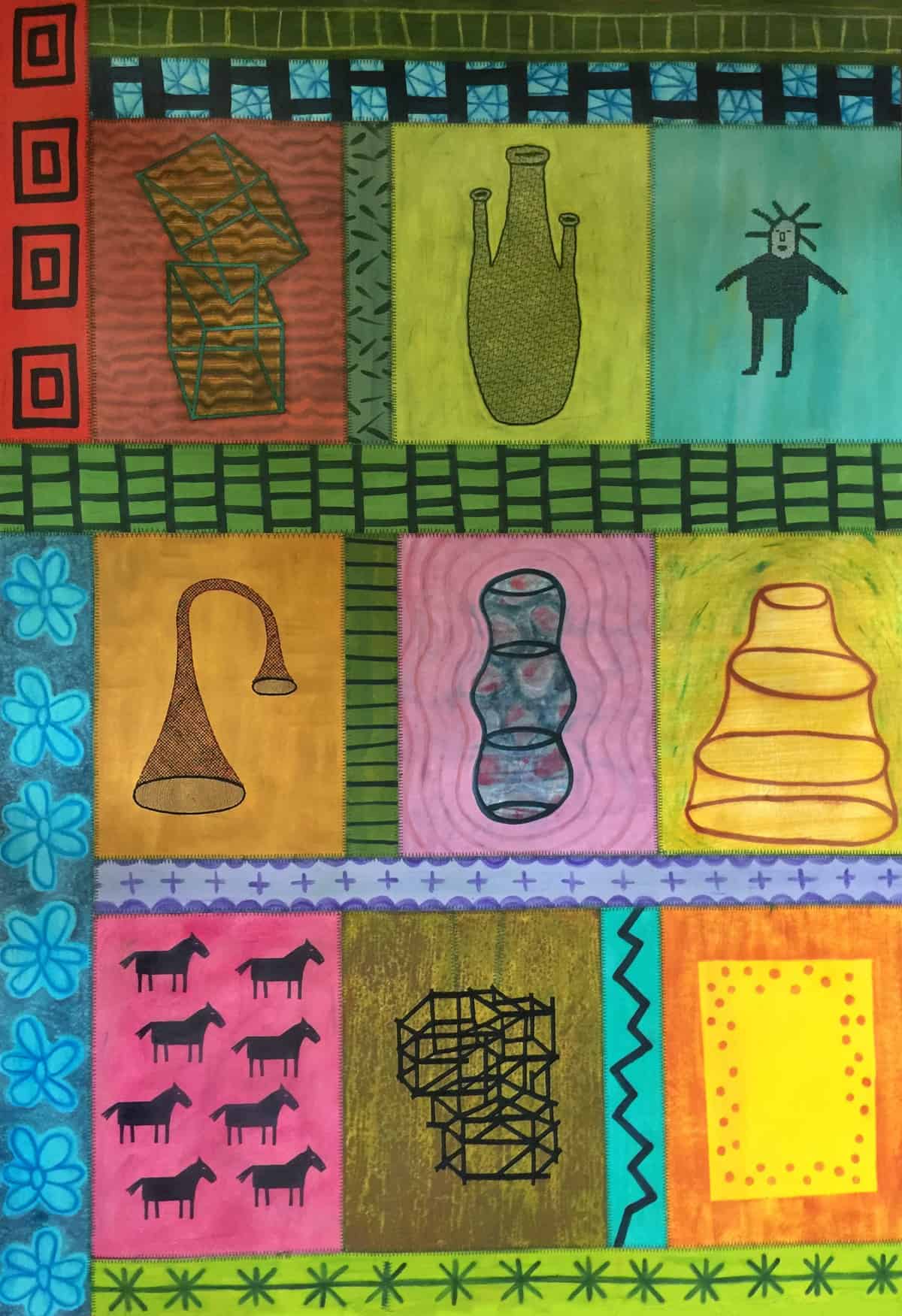 Her embroidered encaustic paintings combine encaustic (hot wax) painting, digital machine embroidery, and printmaking processes that include monotypes and silkscreen—all of it on Encaustiflex, a cross between paper and fabric. The images begin as drawings, which are turned into stitch files on her computer. Sent to a sophisticated computerized sewing machine, they are then stitched directly onto the encaustic paintings and prints. The embroidery files are infinitely repeatable and color choices even trickle down to thread choice.
Giuliani assembles a corps of painted, printed, and stitched pieces, and then choreographs them into a final composition, not unlike quilting. "Nothing is pre-planned," says the artist, who continues to work on a series  in a 20-by-16 inch format.
"I got an iPad and I'm working with one of these new [design] programs. It's really fun to work with geometrics," Giuliani says of the new shape-making magic. "These new works are more taking monotypes and using decorative stitching as line elements as I sew them together."
Giuliani, who has been influenced by Louise Bourgeois' textile works, Philip Guston's cartoon imagery, and Byzantine icon paintings, has also been weaving lately, and has been rug hooking for 20 years. She's the one who taught New Yorker cartoonist Roz Chast how to hook. They've become close friends and will be exhibiting together in June at the Guilford Arts Center.
"The hooking I did mostly when my daughter was growing up," Giuliani says of the intensive process. "I really don't have time to do them without a commission."
Notable past commissions include five rugs she hooked for Rolling Stones guitarist Keith Richards and his wife, model and actress. Patti Hansen. "They live in town. They're wonderful people," says Giuliani, who met the couple through their designer and worked for them for six or seven years, repairing all the textiles in their house as well as hooking rugs for the couple.
Giuliani's work will be in a group show opening Jan. 18 at the Walter Wickiser Gallery in Chelsea, and she's also in the Some Like It Hot: Works In Encaustic exhibit opening Jan. 13 at the Rye Arts Center in Rye, New York.
Leslie Giuliani
Weston, Connecticut
Website
Top image: Detail from "World of Wonders" (cropped), (2016) 45"x 32"
Sewn and Embroidered Encaustic Painting. All photos courtesy of Leslie Giuliani.