With short, loud tracks and nuanced queer politics, Space Camp occupies a space in New England hardcore all their own.
Eclectic, strange, loud as fuck and with only three members (Sam Usifer, Cameron Lovett and Jon Whitin), Space Camp is one of the few powerhouse queer punk bands from northern Connecticut, and almost certainly the only one that fully uses a trombone.
The trio, recently named "a band to watch" on Stereogum, has been busy, with one recorded project every year since 2015. Their most recent release, Force Femmed (available on hot pink colored vinyl and cassette), is a continuation of their cheeky brand of chaotic hardcore. "The overall goal is a really good song—a banger is what we usually call it," says Whitin. "There's no fat on the song; we don't repeat sections too often. If we think we're doing too much of something in one song, we'll try to abandon that altogether in the next song."
As on other Space Camp recordings, most of the songs on Force Femmed are two minutes or less, operating more as a slap in the face than a musical 12-round boxing match. "The way these songs worked out this time seems more to-the-point and honed in," Whitin says.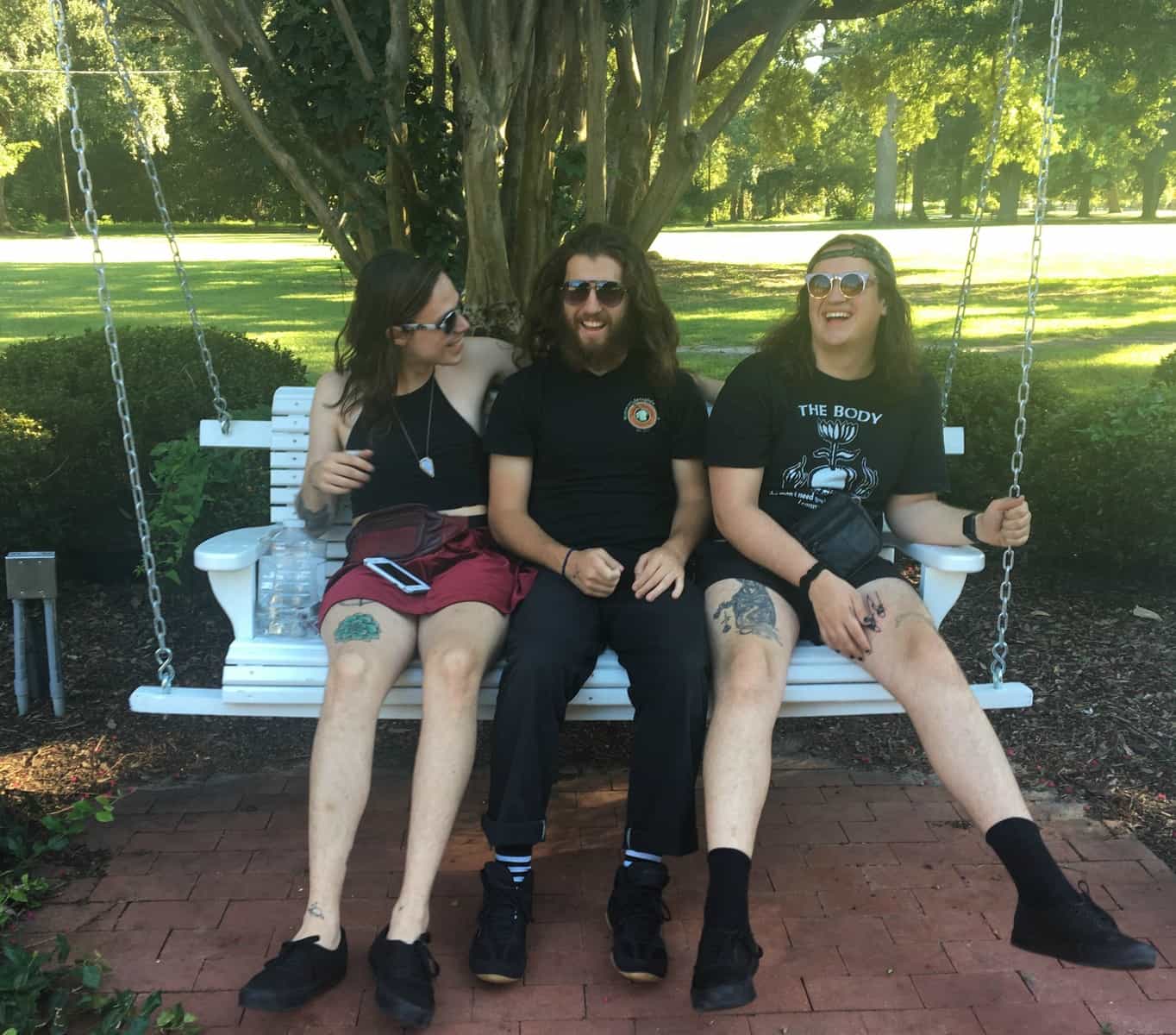 When explaining Space Camp to the middle-aged male coworkers at Guitar Center, Lovett sticks with the descriptor "punk," but clarifies Space Camp's position in the genre: "We're not tough," Lovett says, "and we make hardcore music without guitars."
In the same way that Force Femmed features lots of blast beats, wild screeches from whomever happens to be singing, and a surprisingly fluid combination of a keyboard and brass instruments, the album is also an ideological continuation for Space Camp. The album title addresses some elements of the band's mission beyond blowing amps and writing super tight tracks. "[It's] a reference to forced feminization where (in BDSM) a male dominant is 'forcibly' feminized and dominated by a woman. It's mostly just a continuation of our fling for deconstructing masculinity. Our old album was called Emasculation Suite for the same reason mostly," says Whitin. "It feels really good to occupy a space within a genre that's traditionally very full of toxic masculinity and fill it with themes related to the deconstruction of that."
Admittedly the band members do have an affinity for the less progressive genres of bro-y post hardcore and noise. Usifer accurately describes this kind of music as, "shitty, macho, heavy breakdown bullshit" or as Lovett puts it, "Anything that gets my lips to peel back."
The members of Space Camp are clearly proud to occupy this space in punk as queer folks making traditionally hypermasculine music, though it's not the only thing they want fans to focus on. Being billed for a show simply because they're considered a queer band doesn't always yield the best results for bookers or the band, members say. "There's a lot of people for whom queer is a genre, so we get put on the 'queer show' even though we don't sound anything like any of those bands and only have this one abstract thing in common," says Usifer
While Space Camp has received some escalated media coverage lately and played on some pretty big bills with other contemporary queer punk rock heroes like Aye Nako, the band still reckons with the less glamorous parts of life on the road, a sentiment explored on "Bazooka the Venue," a song that can safely be called "a banger." "[It's about] when the venue does you wrong. Makes you play first while using your PA," says Usifer. "We play until the cops come. The next band plays until the cops come back. Then the show's over."
Want to hear what's on Whitin's playlist? Check out our Take a Listen Spotify channel. While you're there, take a listen to the playlists of other musicians we've featured.
Sam Usifer, Cameron Lovett, Jon Whitin–musicians, Space Camp
South Windsor, Connecticut
Facebook
Bandcamp
Top image, Force Femmed album cover, photos courtesy of Space Camp