Vatic Kuumba uses his poetry to question preconceived notions about race. Hear him at PVDFest's impressive artist lineup.
In November 2014, Vatic Kuumba was part of a group of protesters who spilled onto the highway I-95 in Providence, Rhode Island. Kuumba, a rap and poetry slam artist, was taking a stand against the Michael Brown Ferguson court decision and was subsequently arrested along with four others. An African American growing up in Florida, Kuumba has always been keenly aware of prejudice, and had moved to Providence four years ago to lessen its sting. That singular incident on the highway galvanized the activist, and he has since worked closely with the community in many ways to highlight issues regarding race and culture.
Along with a few other artists, Kuumba will again bring his work to the stage. He is scheduled to be part of PVDFest, Providence's signature art festival to be held June 1-4. The third edition of PVDFest is expected to bring artists from around the world in an open block party style of dance, music, and other artistic performances.
At poetry slams and other events in Providence, Kuumba shakes the audience out of their comfort zone by challenging their assumptions about race. Race, he argues, is a social construct, and he encapsulates his views through poems that challenge people's world views. Kuumba doesn't worry too much that the audience for his performances comprise people who might already be responsive to his message. "I don't necessarily take a lot of my time to try to change a person who has a hateful heart," he says. "However, if they come to one of my performances and they can sit through it, I think it is so thought-provoking that you can't just get up out of it and then go about your day. You have to think about it."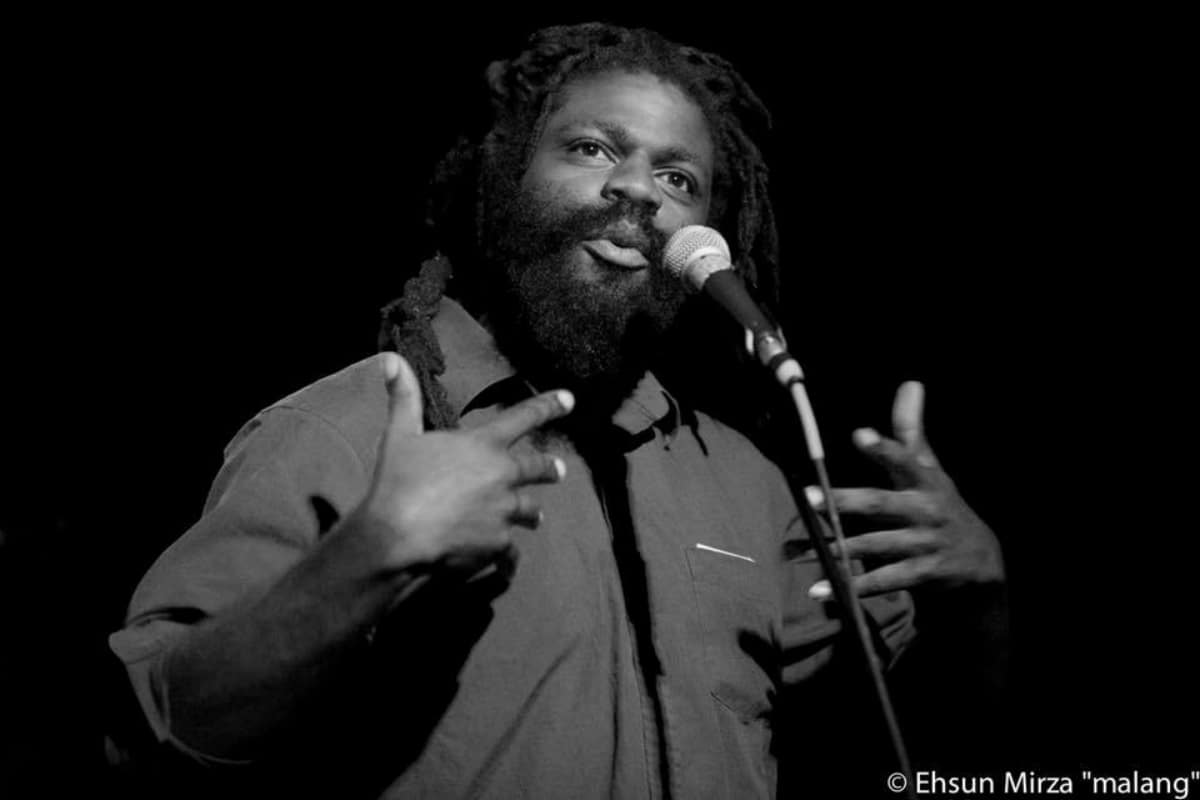 Kuumba wants people to challenge ideas about race, and is willing to meet his audiences halfway. At area schools and community centers, Kuumba has hosted Ice Cream Social Justice parties where free-flowing conversation starts with a nudge from the artist and is further fueled by ice cream. At one such event, Kuumba asked the audience to list the slurs they knew, and he threw all the words together in a giant word search to get members to ask and discuss uncomfortable questions.
For PVDFest, Kuumba will collaborate with a few other artists to deliver pieces for a theater festival called Renaissance. Resistance. Rendezvous. One of these, Me and the Multiverse, tells the story of Kuumba's move to Providence, the adopted home he so loves. Another piece, If I Die, I'm a Legend, will incorporate the Black Lives Matter principles into the story, with dance and visual art complementing the performance.
Kuumba is grateful to be a part of the city's vibrant art scene. "Being in Providence and being around this activist community, has been really helpful for me," he says, "it has been rewarding to really see myself through different people's eyes."
Vatic Kuumba–Poet
Providence, Rhode Island
Instagram
Top image Heurisko, photo courtesy of Vatic Kuumba