The Hard Luck Horseshoe Revue mixes old-school bingo and live music to create a great way to spend a night out in Connecticut.
Usually, the Oasis Pub in New London, Connecticut, is about as southern as a snowball. But on the second Thursday of every month, it transforms into the kind of honky tonk rarely seen north of the Mason-Dixon Line. This happens courtesy of James Maple and Daphne Lee Martin's Hard Luck Horseshoe Revue, an old-school Southern bingo night and concert series that offers a new way to connect musicians and audiences in New London.
Maple, a Mystic-based singer-songwriter, developed the event last year as a way to combat falling attendance at local concerts. "I don't know what happened," he says, "but now it's hard to get people to pay five dollars for a band they haven't heard of."
He took the idea to Sean Murray, the Oasis' manager, who suggested involving Martin, a multi-faceted musician with deep links to New London's arts communities. Maple and Martin bonded over their shared family ties to Appalachia and the South. As children, both attended community bingo nights, and they retained a fondness for the close-knit gatherings of friends and neighbors who attended those events—people who took life at a "slower, gentler" pace than most New Englanders. "We wanted to re-create that situation here," Martin says, "where complete strangers could sit at the same table and participate in an evening together."
To evoke an authentic feel at their own bingo night, Maple bought vintage bingo cards off of eBay, and players mark squares with old pennies. To further set the tone, the co-hosts sometimes perform classic country duets, even though both artists are formidable songwriters in their own right.
More frequently, though, the Revue showcases the region's best Americana acts. This was a priority for both Maple and Martin, because "[New London] is so small but so jam-packed with artistic talent," Martin says.
During the evening, the featured band or artist plays the equivalent of a full set in between rounds of bingo. This balance between music and games keeps all members of the audience engaged. Regular patrons have formed teams, made custom t-shirts, and banter back and forth with the hosts.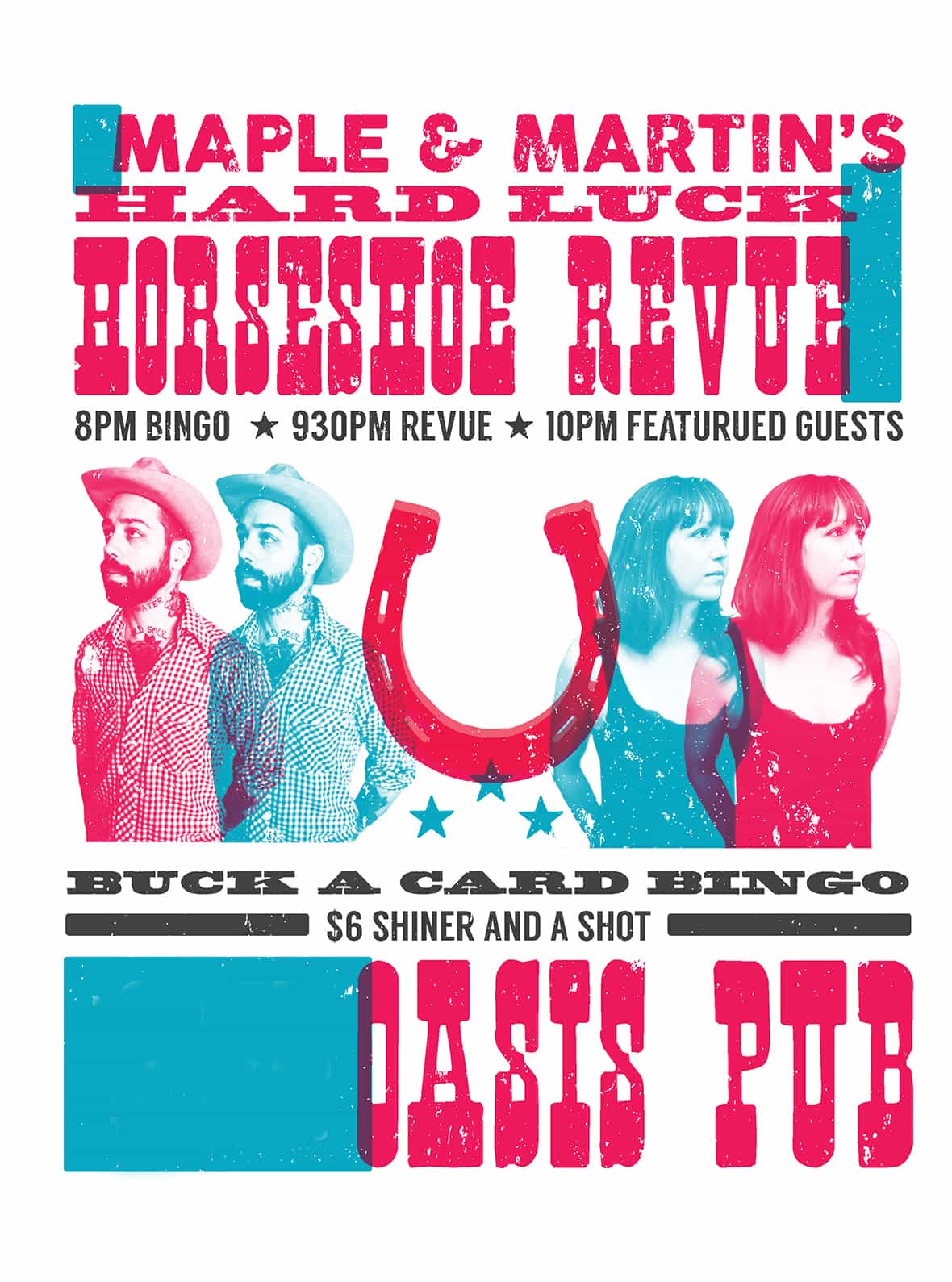 The format has also proved popular with musicians. Performers at the Revue have included veterans like Ian Fitzgerald, but newer artists have also used the event to break into the New London scene. Julie Rhodes, a Providence-based soul singer, made her New London debut at the Revue, where, according to Martin, "she just [took] over the room with her tremendous stage presence." Rhodes played the Oasis again this month in a concert format, which drew in many people who had first discovered her at the Revue.
The event's success is a testament to the charisma of the hosts and performers, but it's also due in part to the DIY ethic of New London's artists. For Martin, this spirit is exactly what makes small scenes like New London so attractive—artists have an outsize ability to shape their futures. Or, in her words, the chance to "build their own empire." Bingo.
James Maple and Daphne Lee Martin–Musicians
founders of Hardluck Horseshoe Revue
Oasis Pub
New London, Connecticut
Website