Hartford dancer and artistic director Arien Wilkerson explores climate, murder, and queerness in his new show EQUATORS.
In a performance space in the furthest corner of Housatonic Community College, Arien Wilkerson steadily paces towards the middle of a darkened set. Red, white, black, and silver chains hang from beams out of sight. Black and white buckets litter the floor, while above them, two strangely familiar red gas cans seem suspended in mid-air.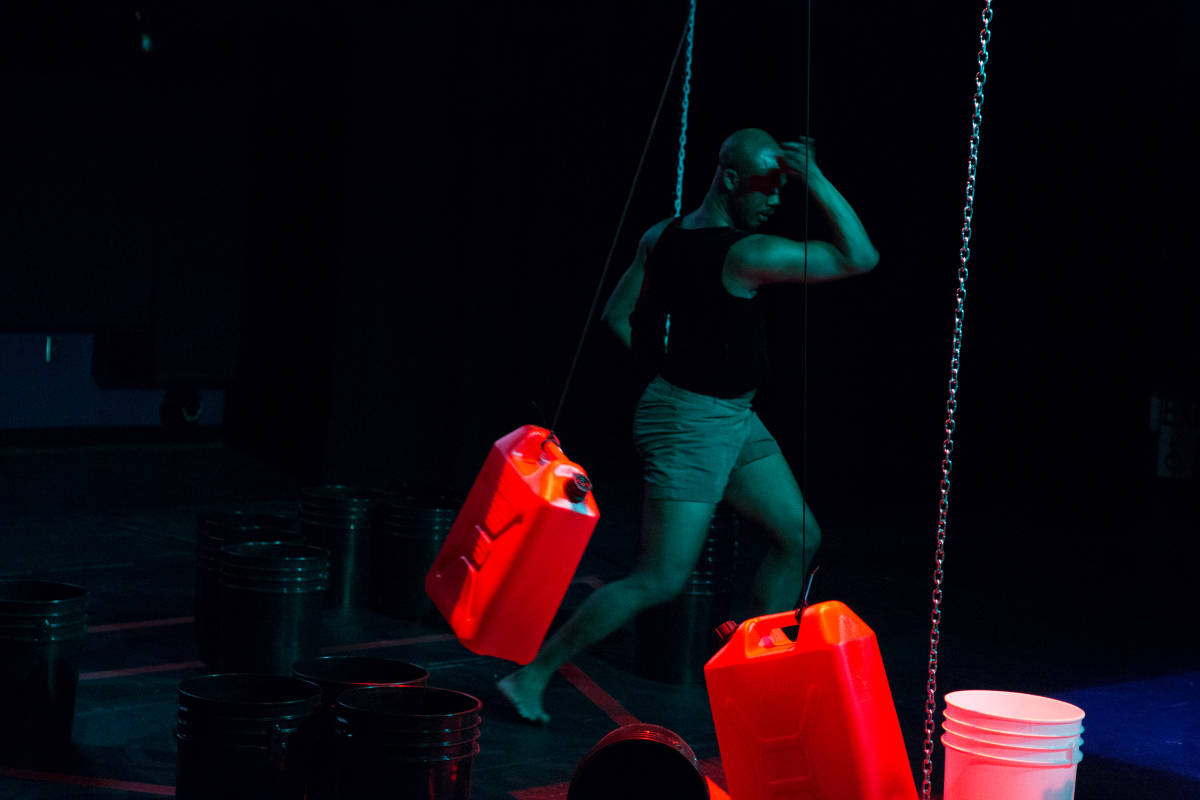 Wilkerson lies on his back and tugs at one of the chains, struggling to pull himself up while an ominous symphony of brass and string instruments meld with a cacophony of insect noises, the kind of bugs that chirp and whine during the hottest days of summer. By the end of EQUATORS, Wilkerson has changed outfits five times, rearranged the buckets according to a mysterious map projected above the set, and nearly seduced each audience member with several sexually charged spotlighted dance solos.
Through movement, sound, film, and conversation, Wilkerson and his team want to explore how the most marginalized populations on the planet will experience the adversity associated with climate change. Additionally, they want to lend dignity to the spaces where young black men are murdered by police, the same places rogue politicians characterize as "hell." "[We are] taking weather and environment and transposing that upon a dark feeling of exhaustion and death," says Wilkerson, "not just losing people. but the way that environment feels during that loss."
Despite the artistic examination of the clash of climate, human-made boundaries, police violence, bodies and our environment, EQUATORS is a legitimately entertaining piece. Wilkerson is an expertly expressive dancer. He's been dancing since age 12 and has been traveling the world, honing his talent, since he was 16. His decade-plus experience studying movement is on full display here, as he steps, pops, and strides through the buckets, chains and hanging gas cans with the purposeful movement of a mountain cat or a busy New York City commuter.
When away from the props on the set, Wilkerson is moving in almost complete darkness, save the special lighting for solos done in key parts of the set, "I can roam in the darkness throughout the entire piece or I can step into the light," says Wilkerson "We wanted to light the show like a work of art and not a dance piece."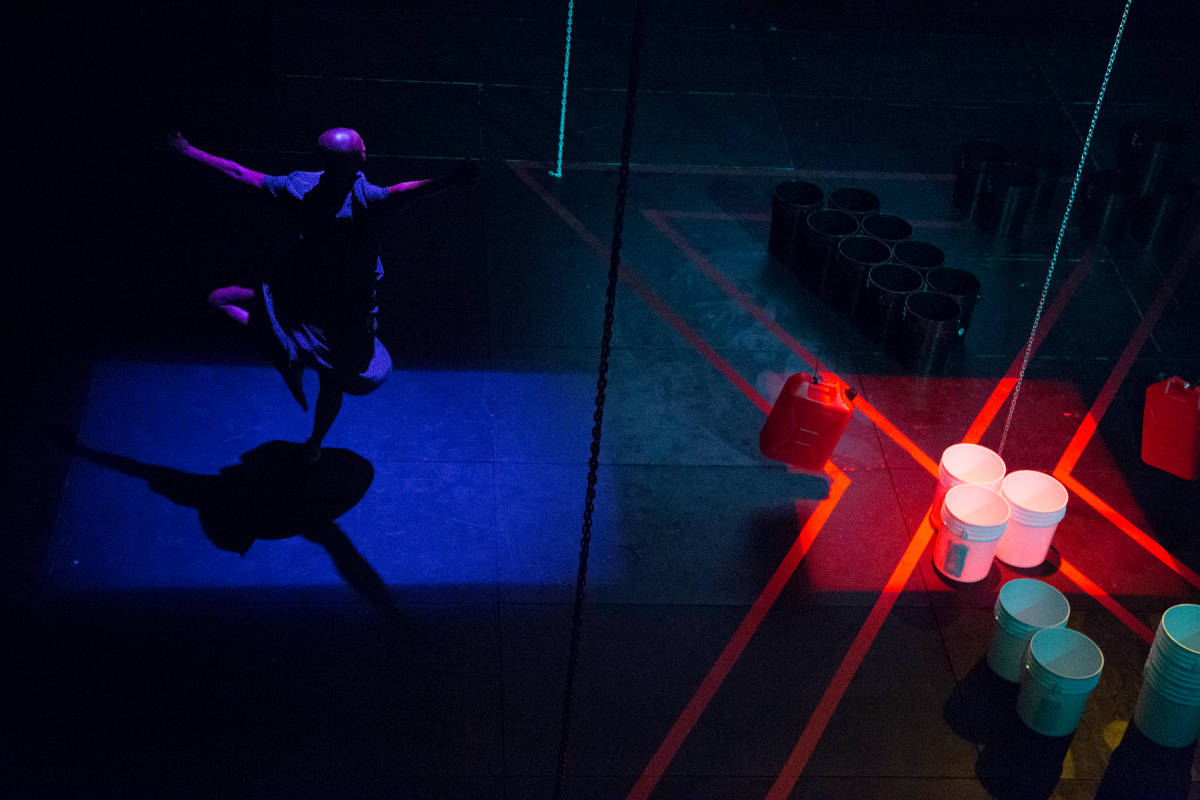 Though the performance as a whole is a thoroughly collaborative production, (set design by David Borawski and lighting design by Jon-Paul Lorroco), it's Wilkerson's queer aesthetic that makes the performance unique. "It's queer as fuck," says Wilkerson. "This is the queerest thing I've ever done. I wear a lot of dresses, I wear a lot of platform heels, I want to just take it there. I was feelin' some type of way after Moonlight, and just wanted more of that proper representation of queer people."
Unorthodox lighting techniques, transgressive gender expression through costuming, and the practiced movement of a queer body stand out in EQUATORS, asking audience members to interrogate their expectations of someone like Wilkerson, a young, black, queer person presenting himself not as a disenfranchised minority identity category but as an individual within a fertile creative climate asserting his expertise and wielding his kinetic power.
Wilkerson plans to expand the performance and stage EQUATORS in different locations throughout Connecticut via an upcoming sponsorship from Real Art Ways.
Top photo Arien Wilkerson performing EQUATORS at Housatonic Community College in Bridgeport, Connecticut | All photos by Brittany Solem