For Maine furniture maker Keven Higgins, each piece of wood he meets is a custom table waiting to happen.
Keven Higgins has been reading wood since his father taught him the skill. Knots in wood aren't defects to be ignored; they're a message from the wood for how it should be worked. "They are an obvious visual clue that the piece isn't veneer, and they add interest," he says.
As a child, he spent afternoons in his family's basement, building chess boards, bookcases, tables—even a crossbow. "I don't think I've ever been as happy as the days spent alone in our basement making things," he says.
Although Higgins grew up working in wood, however, he initially didn't follow his heart's passion. He entered the Army and then worked in the corporate world. However, after getting caught up in trying to have all the right things—the right home, the right car, the right clothes—Higgins realized how much he disliked his life, and himself. It was time to get back on track to his true calling. "I bought a small welder, and I asked my younger brother to teach me how to use it," he says. "I went to Dad's house and borrowed his wood tools again. I built a wood and steel coffee table and sold it," he says. Higgins Fabrication was born, and he hasn't looked back.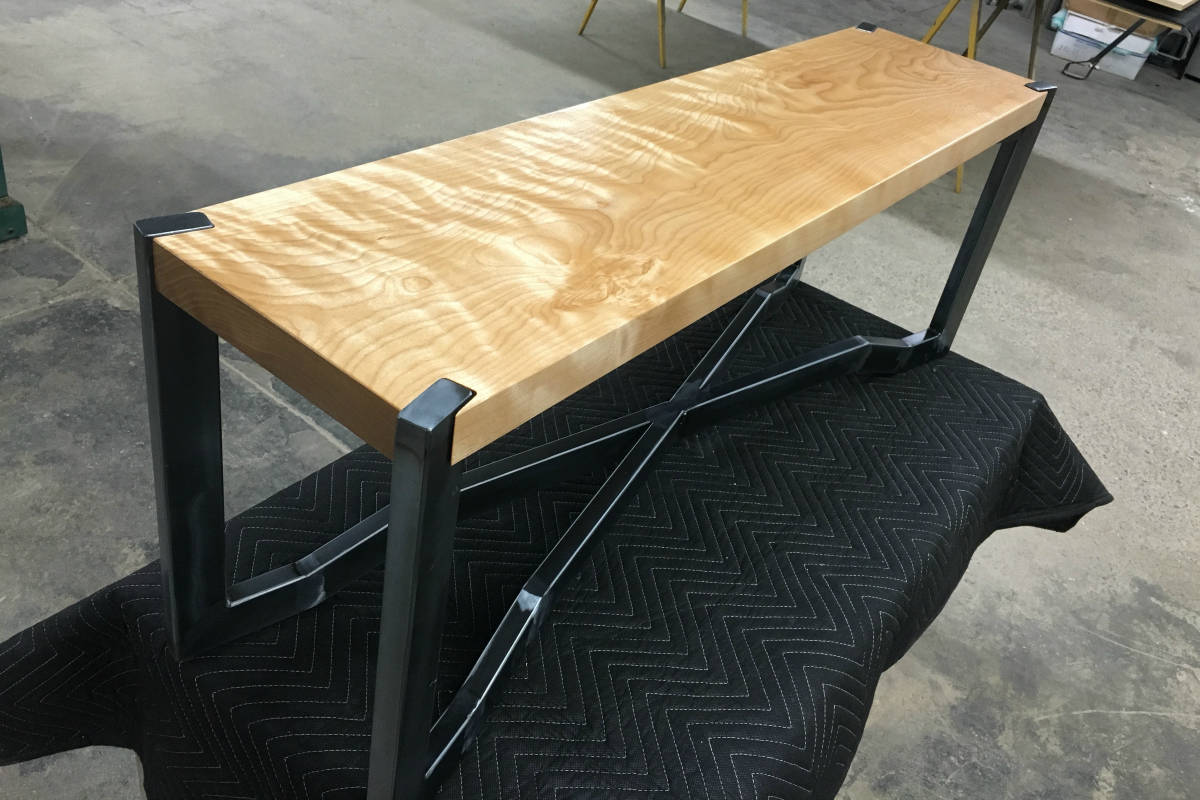 Higgins gets much of the custom slabs he uses to create his furniture from King's Mountain Hardwood in Orrington, Maine, a one-man operation located in an 1800s barn. "It's incredible to be able to buy it fifteen minutes from my shop," he says.
While it would admittedly be easier to use a composite product rather than wood to create the tables Higgins is known for, composites lack soul, he says. "When you look at a real, solid board, you can see the growth rings and easily visualize the round tree it came out of," he says. "You can see the dark heartwood and know that part of the tree lived way before you did. It reminds you of the tree on your parents' lawn. It makes you feel something."
Rather than simply offer them a finished product, Higgins involves his customers in the design process. That custom piece then becomes a piece to inspire the next customer's design.
Finishing with a lacquer topcoat is his favorite step in the furniture-making process. "The pieces always looks a bit drab and dusty until that lacquer hits it, and then all the colors and figure come leaping out all at once," he says. "You never really know what something is going to look like until you hit that step."
Originally from Eddington, Maine, Higgins finds his home state a place of constant inspiration. "Nothing is anonymous, no one can hide, and that keeps people on their best behavior," he says. "We're all connected and share a community, so we treat each other a little better."
Keven Higgins–furniture maker, Higgins Fabrication
Holden, Maine
Website
Facebook
Instagram
Photos courtesy of Keven Higgins