Portsmouth, New Hampshire interior designer Lisa Teague creates colorful eco-friendly living spaces in the U.S. and in Africa.
Lisa Teague began her design career as a decorative house painter. In time, her keen eye for color and instinct for space evolved into a full-service interior design studio. Of utmost importance to Teague is creating an environment that is reflective of the homeowner as well as comfortable.
Teague blends her flair for the artistic with thoughtful design choices that lend character and integrity to the décor. Teague is especially good at identifying existing furnishings or decorative items that can be repurposed with a touch of creativity and color. "My designs are a bit eclectic. I like to throw in something unexpected," she says. "There is usually something modern in an antique home or something antique in a modern space."
Teague's aesthetic leans coastal in color and style, a nod to her seacoast community of Portsmouth, New Hampshire. Although she works beautifully with any desired look, her own surroundings tend to influence her work. "I feel respectful of the environment I'm in and most of my work is on the seacoast and northern New England now," she says. "When you're doing a home, your interior landscapes, looking from room to room, are important, but you're also looking at the exterior and it's important to me to reflect that."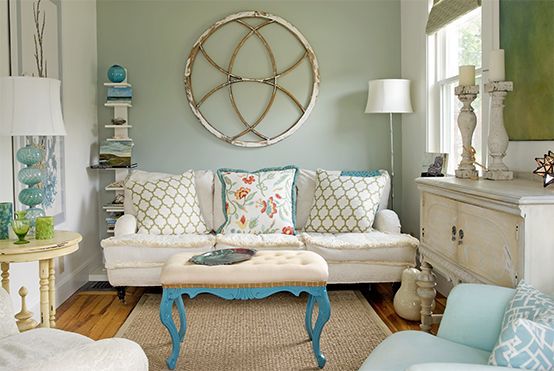 Our New England climate also comes into play when Teague conceptualizes a room. She likes to layer textures and color that make sense whether it's 90 degrees outside or a day suited to "reading a book with a warm comforter around you, drinking tea and watching the ocean turn gray."
No matter the scope of project, Teague believes in making smart and sustainable design choices. This ideology led to the development of her own line of VOC-free, solvent-free and pesticide free organic paints. She and her daughter Andrea produced Quiet Home Paints featuring the popular Quiet Nursery Collection. This came in response to Teague's own health issues suffered as a result of long-term exposure to toxic paints.
The idea for Quiet Home Paints originated during one of Teague's regular trips to Africa to help families in need. At the time, Teague was beautifying libraries and rooms for children and her idea for non-toxic paints blossomed. "I wanted it to be a healthy product that people felt comfortable having in their home," she says.
Teague's visits to Kenya and The Rift Valley Children's Village in Tanzania are very close to her heart. She's is also on the board of directors of Education for All Children, a non-profit organization providing education to Kenyan youth.
Next up for Teague? Ongoing work with design clients as well as a fundraising trip to climb Mount Kenya. "You get a lot more than you give," she says. "What you put in in pennies, you get back in pounds."
Top image: a dining room designed by Lisa Teague. All photos courtesy of Lisa Teague