The New England Food Truck Festival, a one-stop foodie haven, sets up for two days at Mohegan Sun Casino in Connecticut.
I don't know about you, but when I travel these days, my itinerary is all about food. As Anthony Bourdain (and so many others before and since) have taught us, you get to know a place by eating its food. But there's so much great food out there; it's tough to choose just a few great places to eat. Enter food truck festivals.
The New England Food Truck Festival, scheduled for September 2-3, will feature a variety of trucks from all over New England and the Northeast, and food from around the world, everything from Polish and Indian to Laotian and Mediterranean. The festival can satisfy less adventurous comfort-based culinary tastes, too. Always wanted to try a steamed cheeseburger? Walk 20 feet in that direction. Square donuts? Walk 50 feet over there. All varieties of barbecue and sandwich are represented here, plus a few specialty carts (grilled cheese! WAFFLES!). Here's a sample of the trucks you'll find at this food-lover's weekend.
Away Cafe
A food truck from the Boston area with a lot of range. They've got classic fair food in addition to Thai, Cuban, and Italian.
Clyde's Cupcakes
Sweet bakery treats from New Hampshire. All the cupcakes you could ever want. End of story.
Friskie Fries
Do you want fries with that? Why, yes, you do. Crispy hot fries with a variety of toppings, in fact; all fresh from Rhode Island.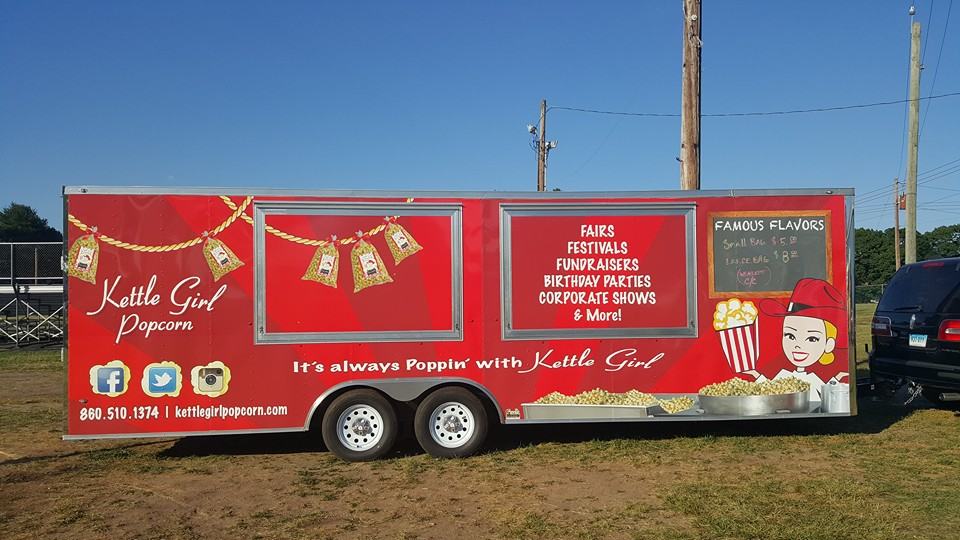 Kettle Girl Popcorn
Kettle corn is that elusive mix of salty and sweet that is mostly irresistible once you've had a taste. It is especially irresistible if the kettle corn is from this food truck, from deep in the heart of Connecticut. Go ahead. We dare you to eat just one handful.
Makin' Jamaican
You may not be able to make it to Jamaica, but you can enjoy some of its tasty treats, thanks to this truck. Rated one of the 10 best food trucks in Massachusetts!
Nora Cupcake
Hailing from Connecticut, Nora has cupcakes for everyone, including vegan and gluten-free options. Who could say no to 50 Shades of Chocolate?
Nom Nom Hut
Want a little kashi katsu, aka pork on a stick? You know you do. This is Japanese food at its best.
Open Season
This Rhode Island truck got game—as in venison chili, bison burgers, elk hot dogs, and wild boar quesadillas. Game on!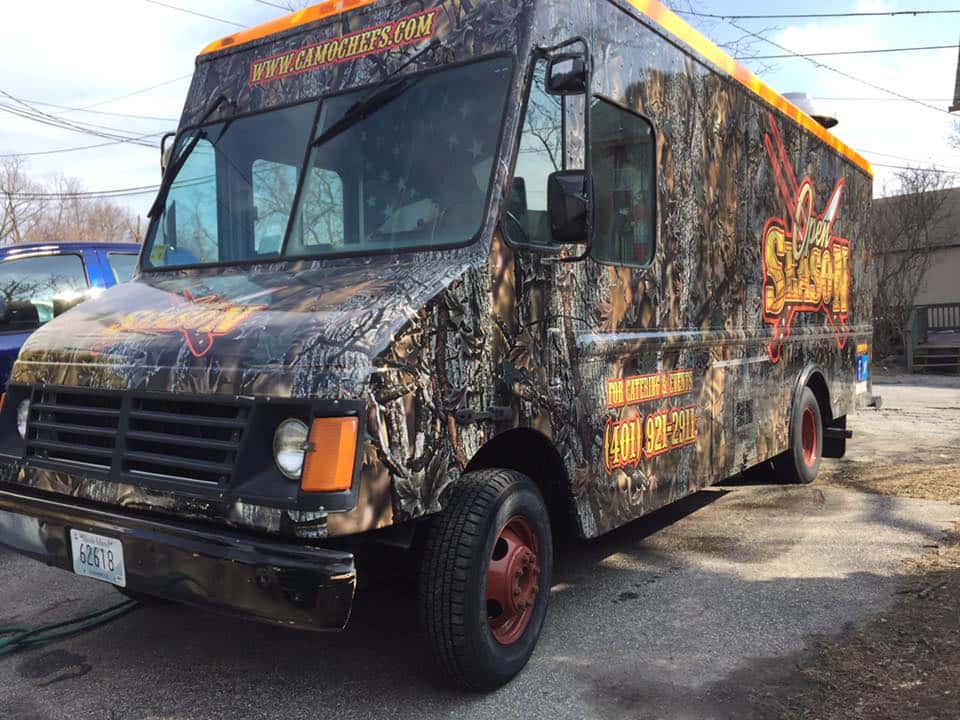 Redbean Coffee Roasters
A cup of Redbean is going to help you through this food fest, believe us.
Red's Street Kitchen
A Rhode Island truck with a passion for street food. Their slider sandos, as they're called, include Portuguese burgers, a Chimichurri cheesesteak, and the Cubano.
Say Cheese!
The answer to answer to many of life's conundrums is to say cheese, IMHO. This truck, based in Worcester, Massachusetts, takes the lowly grilled cheese and moves it up several notches. Two options include the wedge (blue cheese crumbles, cheddar, bacon, and tomato) and the picklebac (cheddar, bacon, and dill pickles).
Shuckin' Truck
You can't get your seafood any fresher unless you grab it from the sea yourself. The fresh shellfish and fish on this truck are either fished by local fisherman from Point Judith, Rhode Island, or from the Salt Pond Oyster Company.
Spuds Your Way
It's a meal in a peel as this Connecticut baked-potato wondertruck likes to boast. And they're not kidding. Their Supreme Baked Potato includes butter, sour cream, bacon, chives, and shredded cheese as well as your choice of steak, grilled chicken, burger, turkey burger, or Buffalo Philly chicken. Phew!
Sultan Kebab
Kebabs, falafel, and baklava are coming to your mouth from this truck that calls Connecticut home.
Ted's Restaurant
If you haven't tried a steamed cheeseburger, this is your chance. Ted's, which also has a restaurant in Meriden, Connecticut, is apparently the only restaurant in the U.S. to solely serve steamed burgers.
Teri-Yummy
If you're into teriyaki, this truck from Boston has it all—chicken, beef, shrimp, shrimp and chicken, vegetarian—you get the idea.
The Whoopie Wagon
For all of your whoopie-pie needs and desires—and you know you have them. Based in Massachusetts.
Tony's Square Donuts
This Connecticut truck serves up donuts with more surface area for your munching pleasure. Tony—and his donuts, of course—have been featured on Donut Showdown. He didn't win, but his unique donuts remain winners here.
Trolley Dog
Their dogs are handmade, all-beef and, apparently, gigantic. What else do you need to know? Based in Natick, Massachusetts.
Zinneken's
This Boston-based waffle truck is owned by Belgians who decided they needed to bring the authentic, liege-style Belgian waffles of the youth to the U.S. All we can say is, lucky us.
New England Food Truck Festival
$5 per person
Sept. 2-3
Mohegan Sun
Winter Parking Lot
1 Mohegan Sun Boulevard
Uncasville, Connecticut
Website
Twitter
Facebook