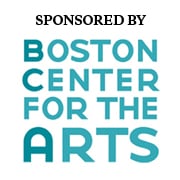 Kick off your summer with the most creative party in the South End of Boston.
Boston Center for the Arts will hold its annual fundraising gala event, the BCA Ball & Disco Under the Dome, June 3rd from 7:00 pm until midnight at the historic Cyclorama Building in Boston's South End. This year follows up the inaugural event in 2016 which had record-breaking attendance and set the standard for this evening that features two great parties in one unforgettable night.
"This year, it was really important for Boston Center for the Arts to put the art front and center at the BCA Ball 2017," says Gregory Ruffer, President & CEO of Boston Center for the Arts. "So we've contracted nearly 70 artists that run the gamut of the visual and performing arts, from classical cello to sampled dance music, contemporary dance to hip hop, spoken word and performance art, and visual arts of all kinds. This is truly an experience with something to delight all arts lovers."
Support of the BCA Ball 2017 makes Boston Center for the Arts programs possible including those that incubate work by theatre, dance and visual artists; facilitate the development of vital contemporary art and performance; and introduce the community to artists and art that transforms.
The evening features a pop-up exhibition curated by Robert Moeller (with all sales benefitting the BCA), performances by John Lam (Principal Dancer, Boston Ballet), The Wondertwins, and Company One, music by composer Nate Tucker, Mobius Percussion and the Community Music Center of Boston.
PBD Events, will set the stage for the first part of the evening with delicious cocktails and cuisine donated by Gourmet Caterers, Capers Catering, The Catered Affair, East Meets West and MAX Ultimate Food while audiences are immersed in an awe-inspiring multidisciplinary experience. At 9:30 PM, the lights will dim for the second party, Disco Under the Dome, and DJ Natito will spin tunes to keep the party bouncing all night long, with delicious desserts and signature cocktails provided by Gourmet Caterers.
Single tickets for the BCA Ball ($300) and Disco Under the Dome ($100) are now available. For ticket and other event information, visit www.bcaonline.org/bcaball.