Burlington's Threes noise jazz trio channels their frustrations to the new political order by making music of controlled chaos.
Hillary Clinton supporters handled last November's portentous election results in their own, distinctive ways. For Vermont guitarist Greg Davis, the time seemed ripe to launch an improvisational noise jazz trio with two other musicians he'd befriended over a decade ago: double-bassist Gahlord Dewald and drummer JB Ledoux.
Since late last year, these three musicians have been performing throughout New England under the fitting moniker Threes. Together, they channel their collective frustrations and post-election angst into avant-garde pandemonium that is ever evolving, ever changing.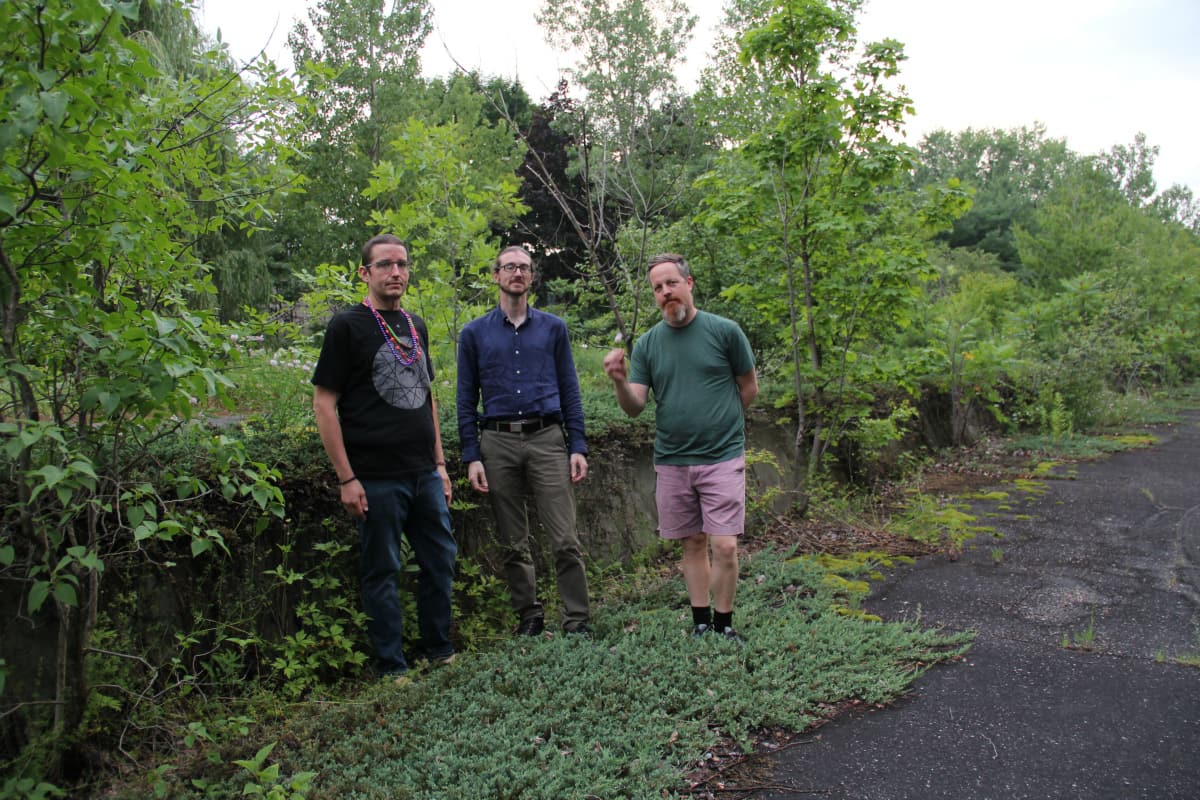 But the music is not the ultimate goal, oddly. "Music can provide a reason for people to gather together and exist in the same space for a little bit, sharing the same experience for a while," Dewald says. "This happens, obviously, with all music, despite the genre, and we are just a part of that. We want to get people together and get our heads clear. We're more about the show than the product."
The classically trained Dewald says Threes "were looking at the current climate of people being separated from one another, staring at screens." In response, "we decided to focus on a type of music as a band that is best experienced live."
One Threes performance is never the same as their last, because Threes never plays the same song twice. In fact, their tunes lack titles altogether. What Threes does is churn out raw, instrumental music that could only be characterized as controlled chaos.
Since forming, Threes has chronicled all of their live gigs and weekly collaborations, and they have been releasing recordings of their work online. "We've all been playing music for a long time, individually, so we all have a pretty clear conception of the kinds of sounds we like," Dewald says. "But, we've been friends long enough that it works out well. We all come at the music from slightly different perspectives, but we eventually end up in this similar place."
The Vermonters—Ledoux is a lifer; the others have migrated there—have been embraced by Burlington's scene, and Dewald says Threes feeds off the creative energies of the other musicians "hidden in the woods up here."
He also says that the Green Mountain State boasts music lovers who typically dig beneath the surface, to find the unique. "There is an audience here that is interested in all types of music, and we'll play a show and you'll get all ages showing up: teens, older folks, parents with their kids," Dewald says. "These people are interested and they are engaged, and we get them together in a room with us and this crazy music, and we just relax into it."
Dewald says that he considers himself lucky to be able to pursue his passions in such a "breathtakingly beautiful place," and finds his creative juices have become more potent because of Burlington's burgeoning scene. "People here have that spirit of northern New England—that kind of Yankee spirit of, 'Let's make this happen,'" he says. "There are all kinds of creative people doing stuff here and we just all cut loose."
Want to hear what Dewald is listening to? Check out our Take a Listen Spotify playlist with his top five artists. While there, you can see what other musicians we've covered have on their list.
Gahlord Dewald–double bassist, Threes
Burlington, Vermont
Website
Top image: Threes, photo by Adam Ploof