Hilary Irons and Stephen Benenson have made Able Baker Contemporary one of New England's smartest galleries. Here's how.

The artist-run gallery Able Baker Contemporary seemed to burst into the Portland scene at a time and place it was needed most. Noticing a weird, sudden absence of serious contemporary art galleries in town displaced by a flowering of boutique and pay-to-play galleries, longtime friends and Portland-based painters Hilary Irons and Stephen Benenson opened their high-concept white-cube showroom in the heart of the city cultural district, in a space vacated by Ed Pollack's Fine Art Gallery next to dramatic arts fixture Portland Stage.
That was 20 months ago, and over the 11 exhibitions since, Irons and Benenson have only invited challenges. Using an open-curatorial model that encourages "local-ish" artists to exhibit their own work in context alongside contemporary and historical painters and other artists, the duo have created a forum of aesthetic inquiry in New England, positioning Able Baker as a necessary part of the arts discourse in Maine.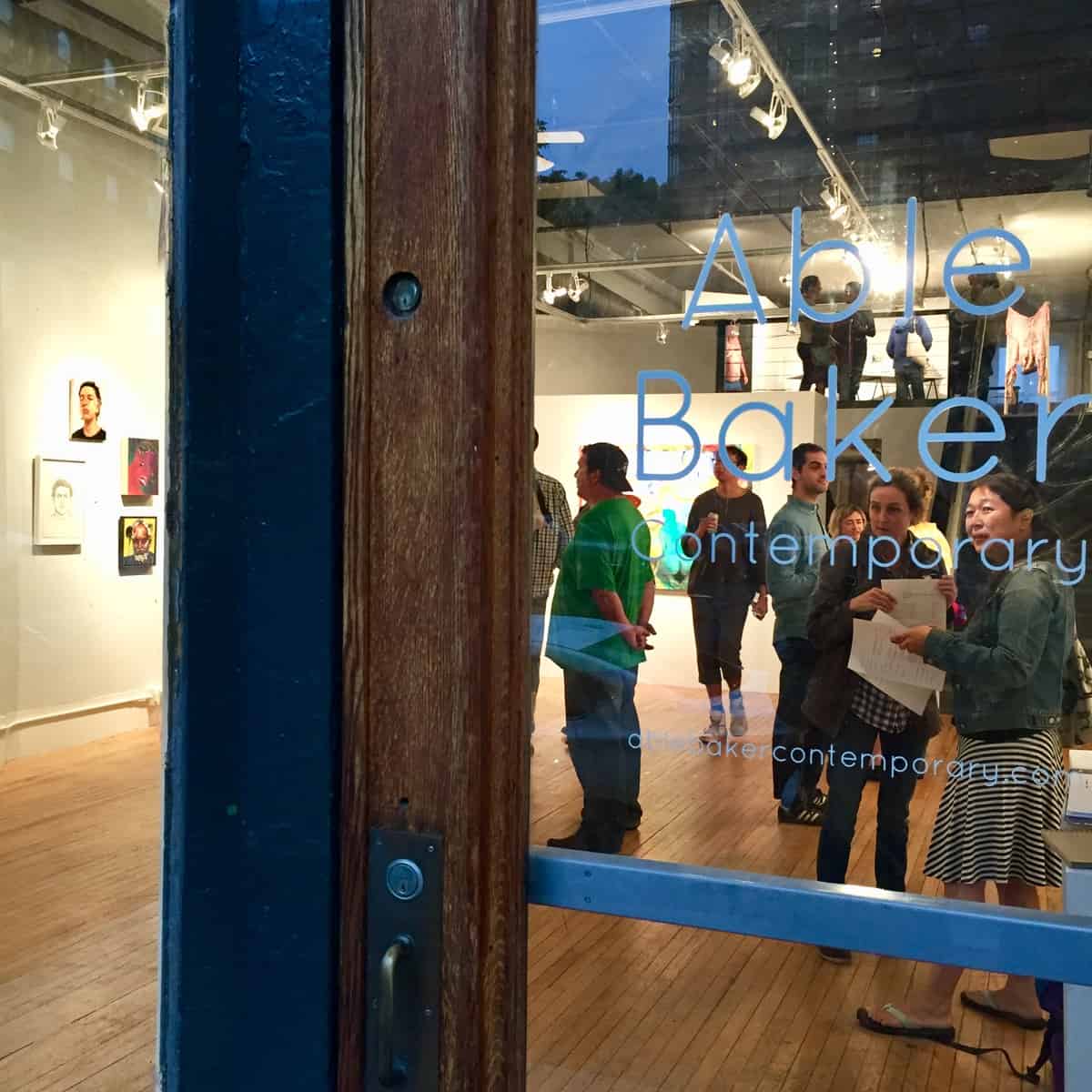 Take: How does an Able Baker show generate? Does an artist or curator will propose a theme for a show?
Hilary Irons: For the most part, artists will submit proposals for a show, but they have a lot of ideas about reaching out to people.
Stephen Benenson: There are more or less two types of shows here. There are ones that Hilary or I will curate together based on themes and work that we want to show. And the others, generally speaking, have been what we call the Artists' Context Series, where an artist basically curates themselves into a group show. We've really loved what's come out of that. It gives artists an opportunity to put their work in a context with peers and influences, sometimes even historic work. Our first show [You Yes You in April 2016] was like that—Meghan Brady curated it. Tessa Greene O'Brien did one [Selvedge in June 2017]. And Jimmy Viera did a show called Periscope [in February, 2017] that was really amazing.
HI: One of the things I like about that series is that when the artists are putting their work into context, they have to decide the conceptual parameters of that context. That can lead to really interesting surprises, not only for us, but for the artists themselves.
T: You'd both been in Portland for a number of years before this. Was that a model you found that was working here at any time?
SB: We'd never seen this model at all.
HI: There must be a lot of other places that operate like this, but I've never seen it in action. It just made sense when we were setting up this place to be really pro-artist and allow artists a lot of agency.
SB: We knew we wanted to be involved in an artist-run gallery. We tried to do that in a way that keeps a consistent curatorial structure where we're able to involve the people that were really exciting to us, while also allowing the flexibility to allow for when we have our own ideas.
T: When the two of you are curating a show, do you make an effort to keep it New England-based?
HI: Yeah, we always make a pointed effort to include people who are local and/or regional. Part of our mission is to continue to do that. Of course, we also have to have a broad net. For example, we had this great artist from Portland, Oregon, showing in our self-portraiture show. I had seen his work as part of the SPACE Gallery residency jury. We're able to bring people in, which is really helpful for opening up a dialogue.
T: Had you two worked together before?
SB: No, we had both been in the Artist Studio building above SPACE Gallery. I'd been there 14 years and Hilary had been there 13. Hilary went to grad school, and then I ended up going to the same grad school [Yale School of Art] four years later to get my MFA. When I came back, Hilary approached me with the idea of opening up an artist-friendly gallery. Then this space came open. I think Hilary had envisioned something more modest.
HI: I saw something more provisional in my mind. We were very lucky in the timing of this space and the generosity of Portland Stage, who is our landlord, granting us the lease. It's great to do something in a building that's already dedicated to the arts. It's nice to feel like we're part of that bigger conversation.
T: Is that a pointed effort of theirs? I know Ed Pollack's Fine Art Gallery was here before.
SB: I think it was a consideration. They wanted daytime traffic and I'm sure it was a bonus that we were involved in the arts. We were fortunate it was already set up as a gallery, because the costs would have been totally prohibitive to turn it into one.
HI: Another great thing about the fact that Ed Pollack was here is that we continue to have a relationship with him. We borrow work from his collection very regularly, and he's been a great collaborator. He's awesome to work with and has beautiful work.
T: Is there anything about an artist-run gallery or the model you're using that allows you to play with ideas that other galleries can't?
SB: Yeah. We don't ever put together a show based on saleability—we just put together the most interesting shows that we can. We're much closer to a museum model in the way that they curate stuff and borrow. But the idea is to be something that people will want to be part of and be involved in. Every once in awhile we'll sell something, which is nice, but that's not the main focus. The idea really came out of the fact that Portland had lost all of its serious art galleries—or many of them—in the last five years, and there were very few places to show contemporary painting. We know that it's difficult to sell art these days, and in Maine, but we felt it was important to have a place it can be viewed.
HI: We allow the artists (or a gallery if they're represented by a gallery) to set their own prices. And we also borrow from collections. That allows us the kind of range that we want, where we're including historical vantage alongside more contemporary work to give context in both directions.
T: Would you say there's been an overall theme of the gallery's shows?
SB: Not really. I've found that when Hilary and I curate shows, we've been attracted to curatorial concepts that are challenging in terms of how to put together a good show that's not cynical about particular themes. Our second show was called American Optimism. We tried to curate a show that had to do with artists that were engaging in a discussion and a sort of attitude about the United States that was optimistic and not cynical, and even involved in consumer culture. It's really complicated to walk that line between not being cynical and also not being hokey—
HI: —or not being naive. I feel like the idea of sincerity—or the avoidance of a bitter perspective—is something that a lot of the people who have curated here are also adhering to. If you read Tessa's curatorial statement (in Selvedge), that was a really important thing for her, that artists were referring back to the tradition of textile art in a way that was wholehearted and generous. That idea comes up again and again.
SB: We also had a show about artists for whom faith and spirituality was part of their work. That was challenging for us, and I feel like this show (Nostalgisms, curated by Nick Benfey) is in the same vein, where there's things that can be a little bit taboo in the art world to talk about. In a certain way, that makes them an interesting curatorial challenge. Nostalgia is one of them, certainly. Literally, in our discourse, nostalgia is actually a bad word. People think of flowers and vases and lighthouses, and so then it becomes interesting to look at really serious artists who are looking at it in a different way.
T: Having been here 15 years, do you have any perspective on the type of art that people are making around here now?
HI: That's a hard question because it's always changing. I don't think that anyone still thinks of Maine painting as centered around a picture of a lighthouse or a guy digging clams. I've been teaching at MECA for about eight years, and the students there are extremely creative and very motivated. The faculty comes from a lot of diverse and formal directions. We're really lucky that this incredible institution is part of our city.
SB: We wanted to open this space because there was a huge amount of talent and a shortage of places where it's being shown.
HI: One of the results of that shortage is that it's not just us that opened up. There's a lot of compelling new spaces. The Institute for American Art was around before we were. Border Patrol is really interesting. New Fruit is incredible.
SB: Speedwell Projects. Grant Wahlquist Gallery.
HI: Avon Street Gallery. It's really exciting.
Hilary Irons and Stephen Benenson – Co-founders, Able Baker Contemporary
Portland, Maine
Website
Facebook
Instagram
Top image: Untitled by Dan Dowd. Found raincoat and snorkel coat, 14x27x2″, 2016. Photo courtesy of Able Baker Contemporary.