Kate McAleer's bean-to-bar chocolate is raising the bar for confection in Midcoast Maine with Bixby & Co. chocolates.
A chilled puddle of cocoa and sugar rests on a tray in the Bixby & Co. candy kitchen. Kate McAleer developed this newest, single origin batch, utilizing cacoa beans from Guatemala. She breaks off a piece, handing it to me.
The chunk is velvety, dark, and rich as it melts in my mouth. Tastebuds awaken, aflame with pleasure. Hints of fruit linger. The dark chocolate is not too sweet, not too bitter, perfect. Like a fine wine, McAleer's bean-to-bar chocolate has depth, and its taste is sumptuous.
Bixby & Co is an artisanal craft confectionary based in the old ice factory in Rockland, Maine. McAleer is the owner and mastermind, with a fervent ardor for her craft. Sold nationwide, Bixby Bars can be found in over 3000 stores, including Whole Foods, TJ Maxx, Amazon, and Hannaford, to name a few. Many of her products are non GMO-verified, organic, vegan verified, Earth kosher, and gluten free. The company is woman owned.
The chocolate, an extension of McAleer, represents an investment of time and focus, as well as fundamental principles of food. With a bachelor's degree in East Asian Studies, and minors in French and art history, Kate pursued a graduate degree studying history of decorative arts and design. A year later she switched schools, attending the Institute of Culinary Education in New York City. It was during this time her passion for chocolate came into focus.
Bean to bar is the newest venture for Bixby & Co. A two-ounce bar of dark chocolate rests inside a red envelope. Contrasted in black ink is the image of an octopus, its tentacles writhing in all directions. This is the bookplate of her great, great, grandparents, Lillian and William K. Bixby, for whom the company is named. Altered in the slightest way, this heirloom is the mold that shapes these single origin chocolate bars, only available at their Rockland location. "We are the first in Maine to make craft chocolate," McAleer notes, with little under 90 small scale artisanal craft makers in the United States.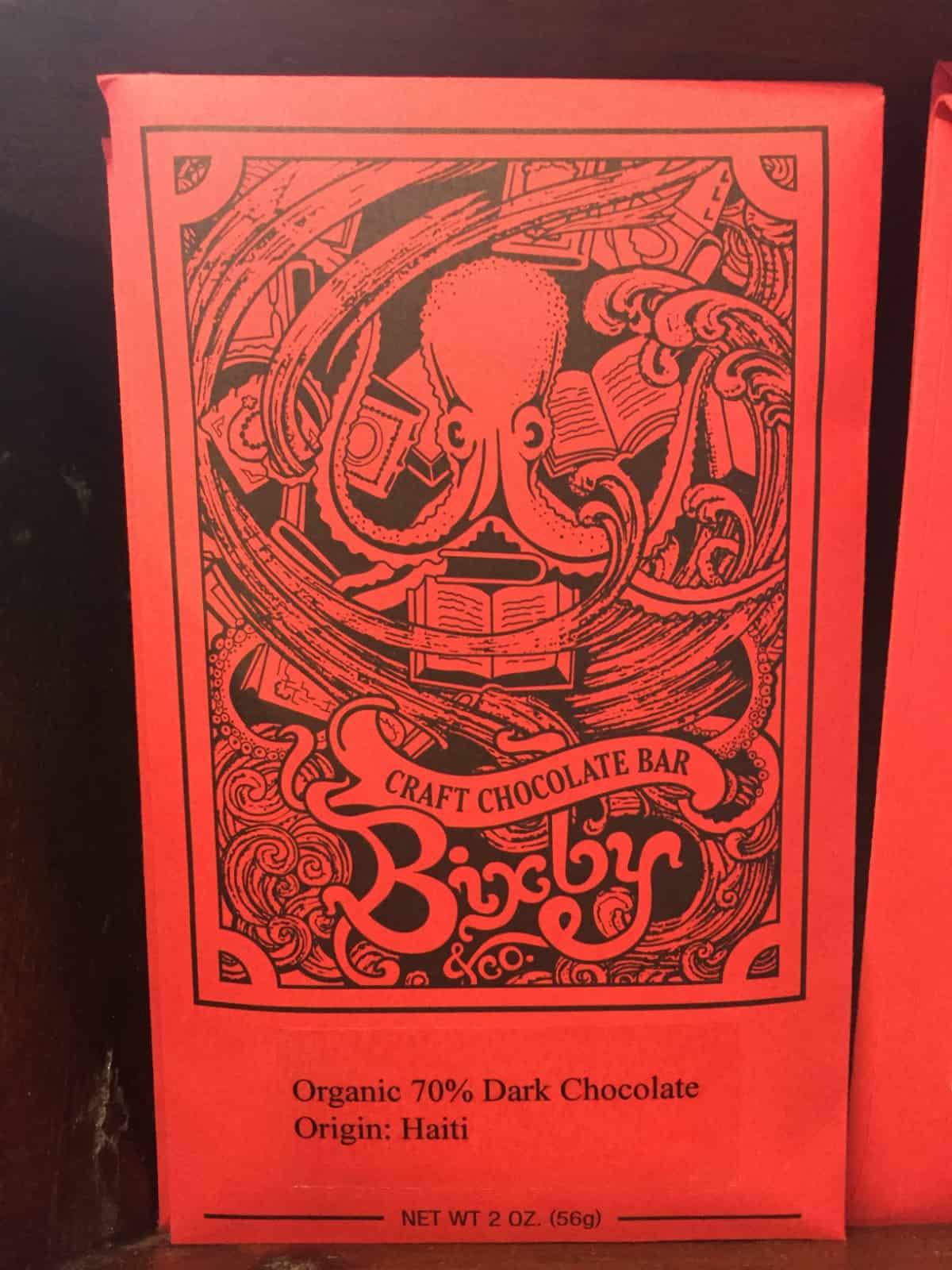 The bean-to-bar chocolate has two ingredients — cacoa beans and cane sugar. Sourcing direct trade beans from Haiti, Guatemala, and the Dominican Republic, McAleer traveled to Haiti to meet and learn about the people growing the cacoa. "Different origins end up with different flavor profiles. Much like wine or different grapes," she says. "You can have cocoa beans from Haiti and Dominican Republic, which is the same geographic island, but different flavor profile entirely."
McAleer wants to enhance Americans' chocolate experience. "There is this mystique around chocolate. People don't know where it comes from, or where it's grown." She seeks to demystify chocolate, one bar at a time.
Kate McAleer–owner, Bixby & Co.
Rockland, Maine
Website
Facebook
Twitter
Top image: Bixby Bites from Bixby & Co. All photos by David Jester.