SPACE Gallery's new executive director, Kelsey Halliday Johnson, looks to turn the venue into an international sensation.
Depending on which door you walk in, SPACE Gallery in Portland, Maine, is either a theatre, a traditional art gallery, an artist studio space, or a presentation hall. But to new executive director Kelsey Halliday Johnson, the organization's greatest strength is its ability to "cross-pollinate" into a variety of arts and forms.
The non-profit formed in 2002, grew into a large space on Congress Street and helped anchor a burgeoning arts district for the city. Two years ago, after a capital campaign, SPACE bought its building and is now positioned to become a major gallery player for artists from around New England and beyond.
When Take sat down with SPACE Gallery's new director, she had only been on the job about three weeks. Johnson, 31, was born in Philadelphia and previously held positions at the Michener Art Museum, Locks Gallery, Vox Populi, the Penn Museum, and has taught photography and digital arts at the University of Pennsylvania and Interlochen Center for the Arts.
As set designers in the adjoining theatre hammered away, getting the room ready for a play that weekend, Johnson talked about the draw of a regional gallery, the scale of her expanding organization and the challenges of modern art.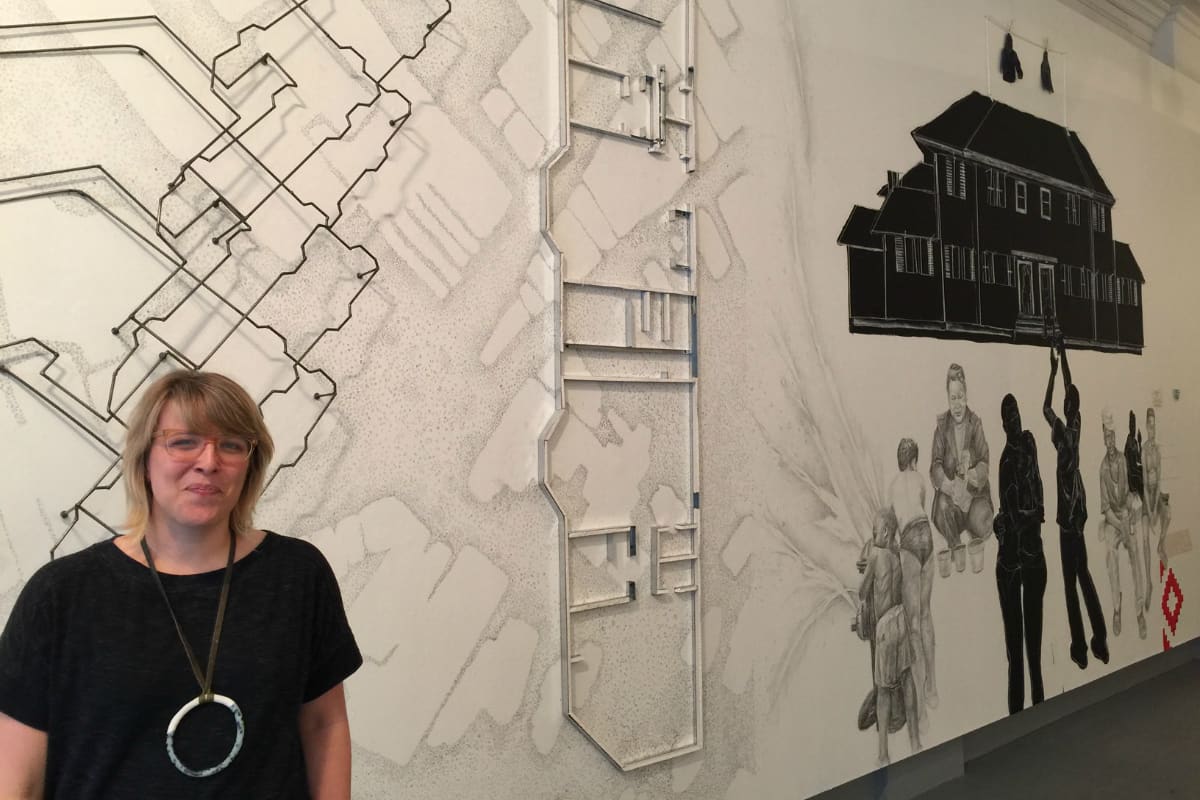 Take: What is it like coming to Portland from Philadelphia? Are there similarities? What did it take to make the leap in geography and scale?
Kelsey Halliday-Johnson: The geography was easy because Maine is really beautiful. I was very excited about that. I've been coming to Maine for a long time and in fact had talked in the past about looking for cities to move to and Portland had been on that list. It's funny though because Philly is a city very much in the shadow of New York and that really affects the cultural sector where there's only a couple of major commercial galleries and artists get to a certain level of their career and they move to New York or LA. I've always shied away from moving to New York and I'm very interested in regional art histories and a non-New York dominated narrative of what contemporary art is, so in that sense it was really about finding another place to be where you can elevate the cultural practice that's happening with contemporary artists that doesn't have to be centered around the huge cultural vortex that actually ends up with a lot of incestuous and similar thinking. There's a lot of exciting and creative projects that can happen outside of that.
T: You come from the James Michener museum. I would imagine that is a very different place than space.
KHJ: I used to also work at Vox Populi, which is a sort of collective model kindred to SPACE. So I was toggling many things to keep my artistic focus, but also expand my skill set. Michener was interesting because it was the first time I ever worked for something that was regionally focused, and I was drawn to how to bring a contemporary program to a regionally focused museum. It's a special place and I'm interested in how a smaller place can have major art history programs and output. So I feel strongly about looking a little deeper, to be locally focused but national and globally minded.
T: So do you look at SPACE as regional or a national organization?
KHJ: Good question and something I hope we can define in people's minds and imaginations. I think a lot of people look at the website or something we do and ask if we have a local mandate. SPACE doesn't but it also has a long history and strong commitment to elevating emerging to mid-career practitioners to larger opportunities and there's something to be said about aiming for both of those things.
T: Given SPACE's mutli-media approach to gallery space, how do you pull persons across the genre? In other words, how is someone who is interested in your film series, also come out to a play or gallery showing?
KHJ: Encounters with artists, for me, are the biggest draw. I love art history, but if you're just reading or seeing, you hit your head against the wall because you want to find the source material. So the fact that we have artist and film maker talks means a lot. Those activities are a way people can realize art doesn't happen in a vacuum. I'm interested in the idea that the arts are a form of research that has a process and a series of theorems and things that people pursue in their studio, and they reveal the evidence of that search in their final product.
T: As a new director, what's the big priority, the thing that's taking your brain space right now?
KHJ: Having worked at an interdisciplinary organization, I'm interested in seeing how we can most clearly explain what we do well and also to create a critical space for artists and their intentions. It's easy to keep rolling and getting people in the doors for events, but I want to make sure we're building better archives and creating opportunities for writing and dialogue. I want to be able to explain to people contextually what's on view. There are people who see contemporary art and don't feel welcome, so my work right now is to create a sense of "come in and let's talk about what you see."
T: Where does SPACE stand in Portland? How are you unique here?
KHJ: I'm in a period of active listening, but my sense is there is a magnetic draw with a certain audience that has been at the heart of this loyal community for a long time. But I also think there are people who walk by our doors and have no idea what we do or who we are. But this is a true arts district that's going to last and SPACE is crucial to that.
Kelsey Halliday Johnson–executive director, SPACE Gallery
Portland, Maine
Website
Instagram
Top image, Kelsey Halliday Johnson