Once a week in Dover, the Soggy Po'Boys band gathers in a tavern downtown to fill it with the jubilant sounds of the Big Easy.

Creating music from New Orleans in New Hampshire is not something you would expect from seven New Hampshire-bred, classically trained musicians and a soulful singer from India who moved to Connecticut as a teen, yet the Seacoast-based Soggy Po' Boys are churning out traditional New Orleans jazz with a distinctly New England vibe both live and on the octet's pair of full-length offerings as well as the band's newly-issued EP, Hang It On The Wall.
Before becoming the Soggy Po' Boys, all eight members were in other bands, according to bassist Nick Phaneuf. "It started as a one-off gig on Mardi Gras at our favorite local bar, where all the musicians hang out," Phaneuf says. "We all wanted to play some New Orleans tunes, and it was so fun, we figured maybe it should be a thing, so it grew very organically."
All eight Soggy Po' Boys were jazz players, but had never considered focusing on the New Orleans style before that pivotal night. "We decided to invest in this sound as a band and learn more about this style," Phaneuf says, adding the Soggy Po' Boys play hundreds of shows across New England as well as other parts of the U.S. "We are finding pockets of people who are really interested in American roots music, because it is pretty accessible, it is fun to dance to, and the horn section is just a spectacle."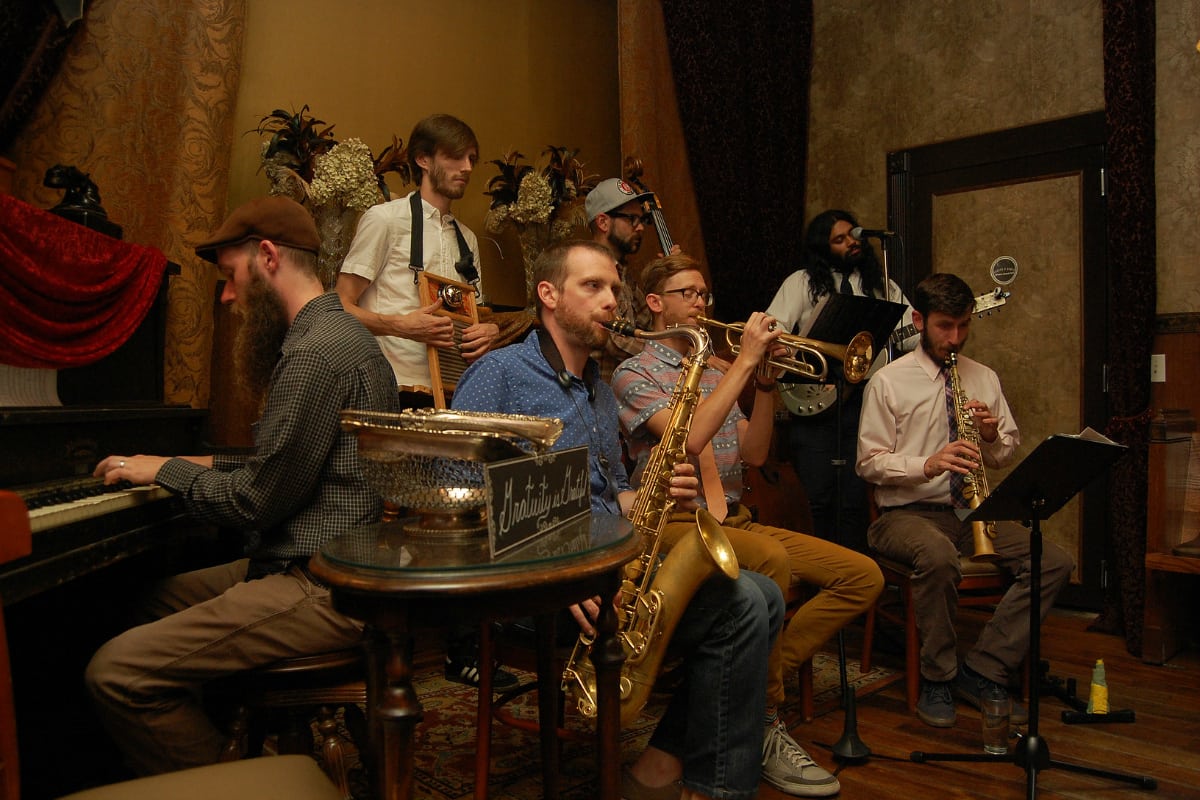 The band's lively style of jazz incorporates elements of swing and shades of Caribbean and French music with Creole rhythms. The velvety at times, raspy at others vocals of guitarist Stu Dias blend the baritone of Barry White with the playfulness of Jack Johnson.
Most of the band's members have moved back to New England after brief stints elsewhere. But Phaneuf will never stray again, he says. "The people and the pace of life of New England really suits me as does the access to nature and urban spaces," he says. "If you make music here, you end up living here because in this area of the Seacoast, there is this tight-knit community of artists that supports a weird New Orleans band like us."
This fall, the Soggy Po' Boys will make their New Orleans debut. Until then, they have a string of summer shows scheduled throughout New England and New York. You can hear them weekly at Sonny's Tavern in Dover.
Those who pick up any of the band's records will surely notice that New England inspires many of Dias' lyrics, which actually honors the genre's earliest traditions, Phaneuf says. "The music from New Orleans is very much about that city, and we feel like we need to own the fact that we are these New England guys playing this music," he says. "Adding to the body of music written about this place is meaningful to me. I hope in this life to write a song that expresses what makes New England beautiful."
Want to hear what's on Phaneuf's playlist? Check out Take a Listen on Spotify.
Nick Phaneuf — Bassist for the Soggy Po' Boys
Dover, New Hampshire
Website
Facebook
Instagram
Twitter
Images by Benjamin David Hjelm