In Blind Sushi, New Haven Sushi Chef Bun Lai and blind explorer Ryan Knighton scour the New England coast for food and adventure.
Eric Heimbold's award winning documentary Blind Sushi, which screened at the Provincetown International Film Festival, takes the viewer through the forest, into a lake, and deep into the Connecticut woods in search of unique textures, seemingly inedible wildlife, and lots of wilderness thrills.
We experience these unique ecosystems through the perspective of Ryan Knighton, a visually-impaired travel writer and Bun Lai, a sustainable sushi chef who creates fine cuisine from invasive species. The camera literally dives into the water with Knighton as he paws underwater for clams. We slowly follow Lai through his purposefully overgrown farm and garden. It's their shared love for the natural world and willingness to get dirty that brings them together, and it's their deep friendship that the film is most interested in documenting.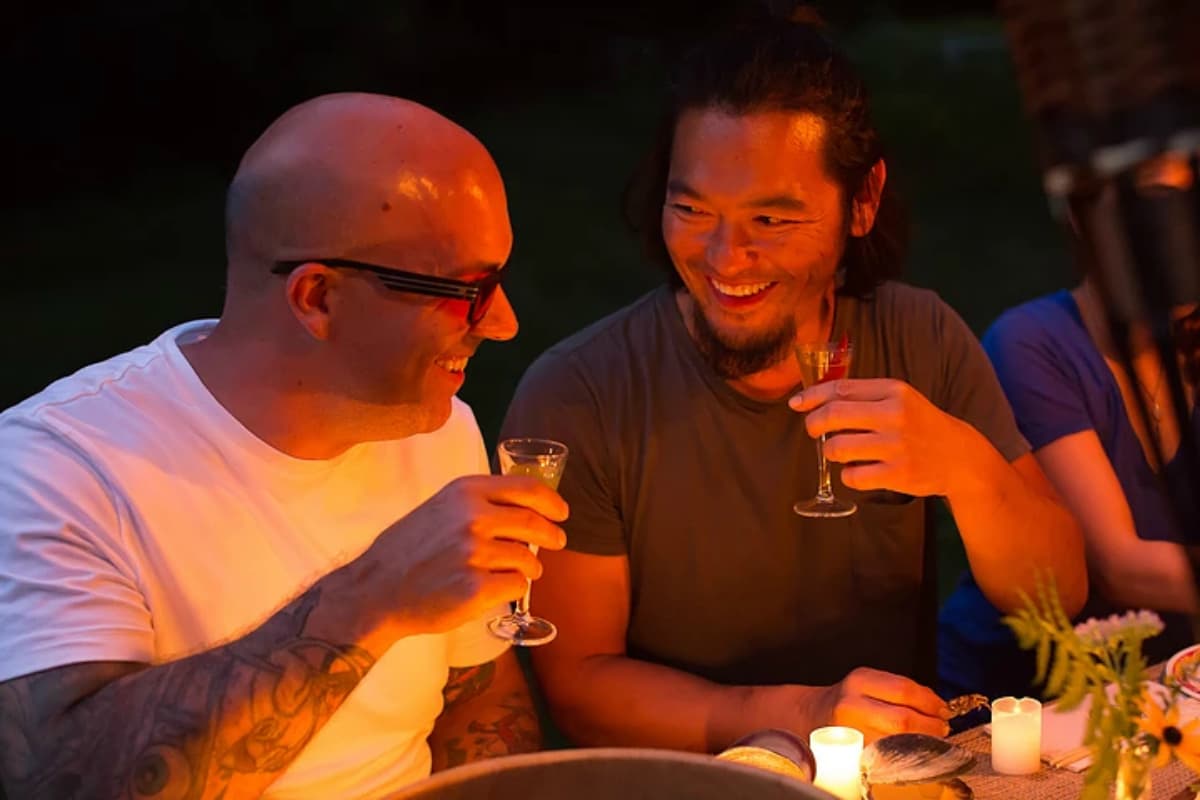 Knighton began to lose his sight at age 18. This important shift in his life operated more as a motivator than a potential challenge. "Blindness was one issue," he says, "but what scared me more was boredom."
The documentary shows that it's this same fearless curiosity and drive to fight complacency that also shapes Bun Lai's attitude towards travel, environmental preservation and ultimately cuisine. "I get to see what New England looks like from its invasive side," he jokes while the two lift up rocks during low tide and feel around for fast-moving crabs. "I can't get used to the feeling of things coming alive that used to feel like rocks," says a squeamish Knighton.
In addition to their love of food and the pursuit of all things external and exciting, the film illustrates that Bun Lai and Ryan Knighton are both outsiders in their own way. Lai's legitimacy as a sushi chef is questioned by some traditional chefs since he usually sticks to ingredients that are local to Connecticut or invasive. Knighton is a self-proclaimed "sight seer" who is vision-impaired, thus likely facing the stigma and sense of otherness folks with disabilities often confront.
Director Heimbol does an excellent job controlling the film's tone, making sure the documentary does not travel into the overtly sentimental realm of inspiration porn. A viewer might understandably feel a bit wary even by the title, possibly anticipating that the short film will simply trade on its subject's disability for sentiment rather than depict Knighton in his nuance. This does not happen.
The documentary does not depict Knighton's foraging in the forest and noodling deep in the water for clams as novel accomplishments. What the director effortlessly shows instead is Knighton and Lai offering each other unique insights about textures, tastes, and histories while they explore together. In the same way Lai leads Knighton's hand to feel an invasive species of lettuce naturally growing in his garden, Knighton invites Lai to consider more closely the textures and smell of the mud from the bottom of the lake.
Usually conversations about on-screen chemistry are reserved for rom-coms and sparse, naturalistic, off-off Broadway productions. But in Blind Sushi, Knighton and Lai's chemistry and affection for each other's position in the world is at the center of the film. Their constant laughter and close physical interaction characterizes their relationship as dear friends rather than a strange social experiment staged for the sake of a documentary with a good concept. For this reason, Blind Sushi transcends the tired cable television tropes of travel shows with a twist and offers viewers a lively perspective on the intersection of disability, travel, sustainability, and cuisine.
Visit blindsushi.com to request access to the film for free, and to see when it's screening next at a festival near you.
Bun Lai–chef
Ryan Knighton–author
Blind Sushi
Website
Facebook
Top image, Bun Lai and Ryan Knighton, photo courtesy of Blind Sushi