Is the whoopie pie a Maine staple, an eastern Massachusetts confection, or an old Amish tradition? We explore the great debate.
The origins of the whoopie pie are easily among the most contested in dessert lore. Several New England states (and one state outside the region) claim to have invented these instantly recognizable cream-filled sweets. But before diving into the debate of the whoopie pie's background (quite heated for a pleasant, generally innocuous food) it's best to address its moniker.
Whoopie "pie" is a misnomer. Comprising the original version of the dessert are two cookie-shaped pieces of chocolate cake around a vanilla cream or marshmallow fluff center. Modern variants swap the chocolate for red velvet, gingerbread, or pumpkin, or ditch the standard filling for peanut butter, chocolate, or other delights. You know them when you see them, regardless of incarnation: adorably bulbous two-tone things that look a little bit like an I'm-you-but-stronger version of the Oreo ("Big Fat Oreo" is one alternative name) and a little bit like an edible UFO.
So where do these fluffy saucers come from? According to the Farmers' Almanac, four states vie for credit: New Hampshire, Massachusetts, Maine, and Pennsylvania. Yankee Magazine props up New Hampshire as the state to beat for whoopie pie quality, but the other three (and especially Maine and Pennsylvania) have been duking it out for recognition as the true originator for a long time
Maine claims to have birthed its first whoopie pie in 1925 at Labadie's Bakery in Lewiston. Sadly, any potential proof this was the first nationwide example of the dessert was lost in a fire that destroyed the original bakery and its records in the 1960s. Proof aside, the Pine Tree State holds an annual Whoopie Pie Festival every June, and in 2011 WMGX paired up with the iconic Maine business Wicked Whoopies to make a 1,000-pound-plus pie. Roughly a week later, the Maine Legislature declared the whoopie pie the official state treat (an original proposal to deem it "state dessert" was changed so that blueberry pie would receive that title). This bold motion to ascertain whoopie legitimacy was actively protested in Pennsylvania.
Indeed, the Keystone State holds its own annual Whoopie Pie Festival every September, and claims the dessert was invented by the Amish in Pennsylvania Dutch Country. Whoopie pies were supposedly made with extra cake batter and frosting by Amish women and tucked into their children's and husbands' lunch boxes, whose joyful exclamations are alleged to be the source of the treat's name. This is amply disputed. "Gob," the state's other term for whoopie pie, is unfortunately not relegated to hazy legends.
Massachusetts only makes the great whoopie pie debate murkier. The long-gone Berwick Cake Co. in Roxbury printed the first known advertisement for the product in 1931—five cents each—and you can still see "whoopee! pie" in faded paint on the company building. Yet another branch of uncertain history extends from Lynn, where H. Allen Durkee and Fred L. Mower pioneered Marshmallow Fluff. Durkee-Mower claims creation of the whoopie pie around the 1930s in association with their Yummy Book of recipes, but a later exploration of the company's archives found they might not have done anything whoopie-related until at least the 1970s.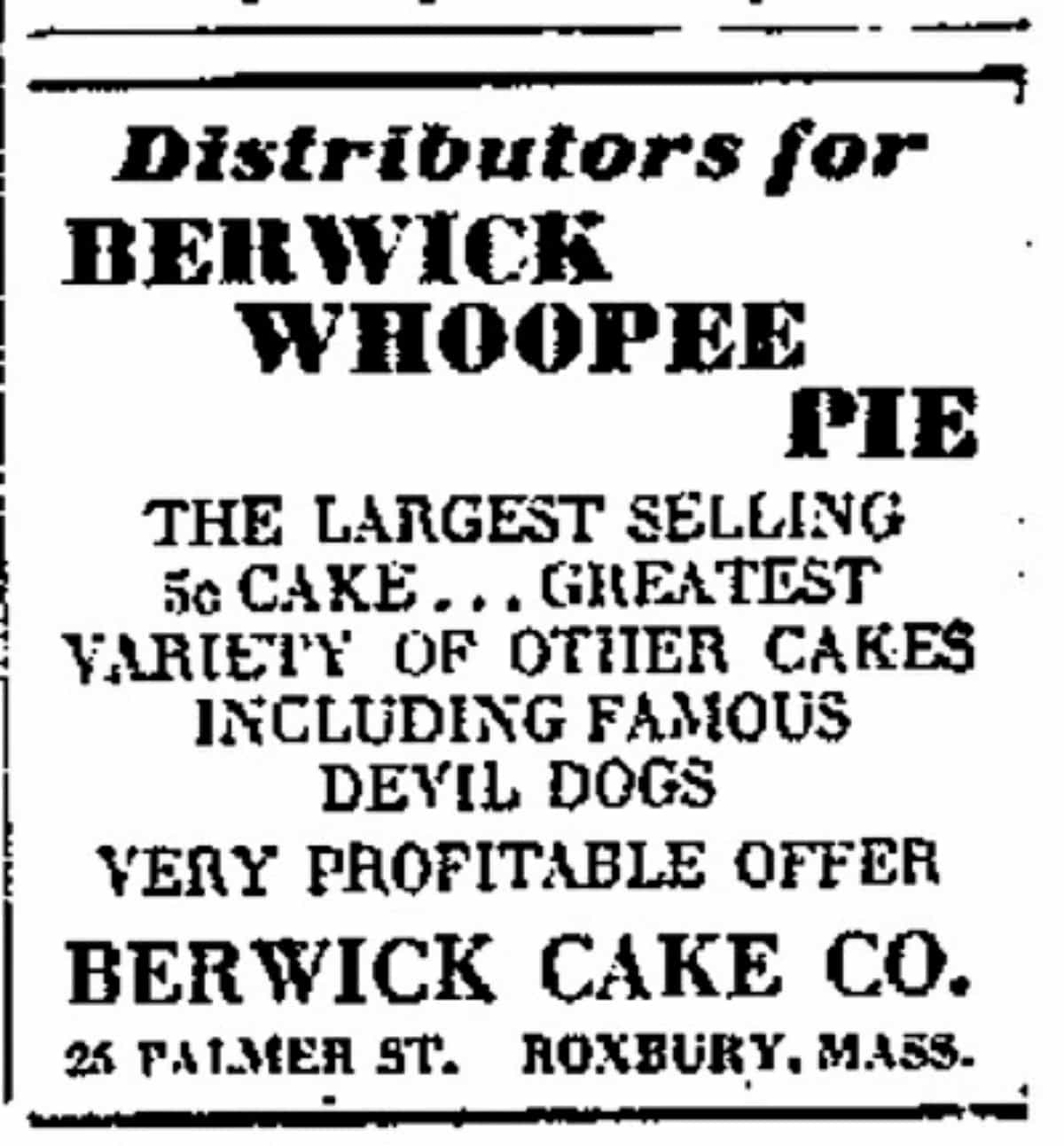 Hiding just beneath the benevolent surface of the whoopie pie is a dicey mess of cake, filling, and controversy. We may never know who really created the whoopie pie, but as long as it remains a New England staple, big whoop. Let's just go eat one.
Top image whoopie pies from Labadie's Bakery in Maine. 
Image courtesy of Labadie's Bakery