For the third day of Take's coverage of Miami Art Week, we visit one of the largest fairs and hang with Tanja Hollander at Art Basel.
On day three of Miami Art Week, all the press previews and openings are over, but the fair perusals don't stop here. Back when this art extravaganza was first organized, these first three days were key. Folks would flood to the openings and previews (or vernissage for those in the know), see the works at a few fairs, make their art purchases and/or sales, then take the weekend off. Today, it's a much different game. Not only are there more buyers than ever, but each gallery owner and, in some cases, the artists who accompany them, have to remain present and working until late in the evening Sunday.
First up for us on this third day of holy art fair perusals is one of the longest running art fairs in Miami and the last big Miami Beach art fair we haven't visited; PULSE.
Katelijne De Backer, the newly anointed director of PULSE, says the fair seeks to create more accessibility around the kind of works being presented at Art Week. "Even for those who cannot collect, the fair offers an opportunity to meet and talk with artists you would never otherwise have access to. I think this kind of generosity is important, especially now," she told the New York Times.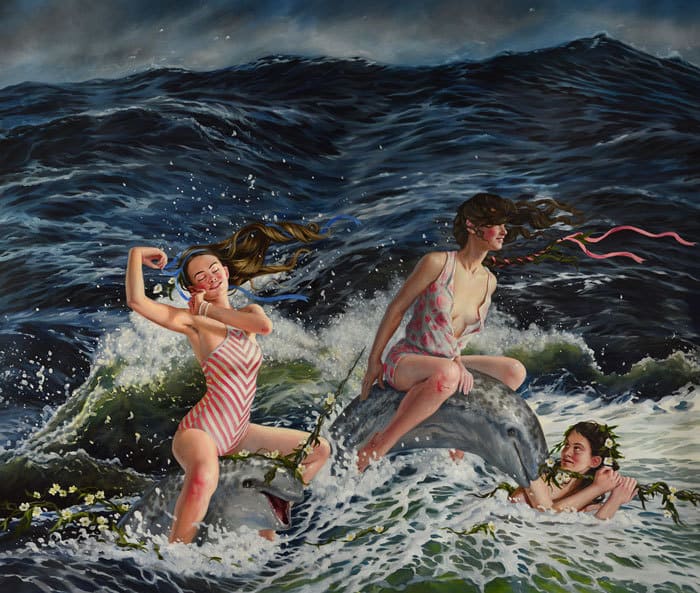 William Baczek, owner at William Baczek Fine Arts in Northampon Massachusets, agrees that the fair is more accessible not only for folks who aren't art collectors, but for smaller galleries that are essentially locked out of the larger Art Basel scene. Baczek presented paintings by Jaq Chartier and Jana Burke as well as sculptures by Anne Lilly. By the time we caught up with him, Baczek had already made a few sales.
After leaving PULSE, it was time to see a good Take Magazine pal — one of our 2017 Artists to Watch, Tanja Hollander. We met Hollander in the swanky VIP collectors' lounge at Art Basel, easily the largest and most talked about fair at Art Week Miami. MGM Resorts Art & Culture presented her work as a participatory installation where attendees, much like at her past Mass MoCA installation, can add to her growing collection of sticky notes where people write their definition of a "true friend." The folks at MGM Resorts Art & Culture chose to include one of Nick Cave's sound suites in the suite, making the interactive exhibition felt like a spiritual continuation of her work with Mass MoCA since her installation there was positioned immediately before the entrance to Cave's sullen yet sparkly meditation Until (both shows curated by Denise Markonish). 
Though most of the fairs are populated by galleries from Chicago, Los Angeles, New York City and San Francisco (and all the other art hot spots across the world), there's still much to explore in terms of New England artists, galleries, and their intimate connections to the broader art world.
Check in with us tomorrow for more coverage of Art Week in Miami when we chat with Auerus Contemporary of Providence Rhode Island and Mary Sky of Hookset, Vermont. 
Top photo interior of the collectors' lounge at Art Basel featuring Nick Cave's sound suite and Tanja Hollander's interactive exhibition entitled Are You Really My Friend presented by MGM Resorts Art & Culture.